Jump to recipe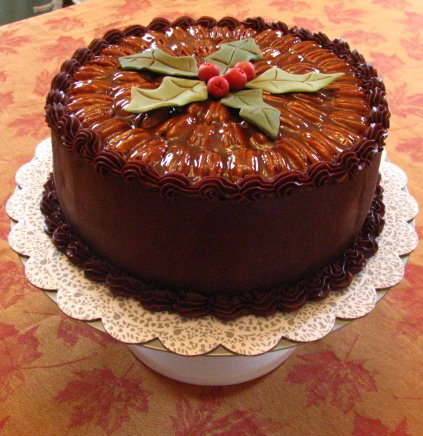 Caramel Turtle Cake

Ingredients
1 pound caramels
1 box German chocolate cake mix
1/2 cup vegetable oil
1/2 cup butter, melted
1 1/2 cups water
1 (14 oz.) can sweetened condensed milk, divided
1 cup chopped pecans
1/2 cup butter
1/2 cup evaporated milk
1 cup cocoa
1 (16 oz.) box powdered sugar
1 teaspoon vanilla extract
Instructions
Preheat oven to 350 degrees.
Mix cake mix, oil, butter, water and half the sweetened condensed milk until well blended.
Pour half the batter into a greased 9?x13?x2? cake pan. Bake 20 to 30 minutes.
Unwrap caramels. In a double boiler melt caramels and remaining sweetened condensed milk. (Melting takes approximately 20 minutes, so begin when cake is put in oven.) Pour over warm cake layer. Sprinkle with chopped pecans.
Pour remaining batter on top and bake again for 30 to 40 minutes.
To make frosting bring butter, evaporated milk and cocoa to a boil. Add powdered sugar and vanilla. Beat until smooth.
Spread warm frosting on warm cake.