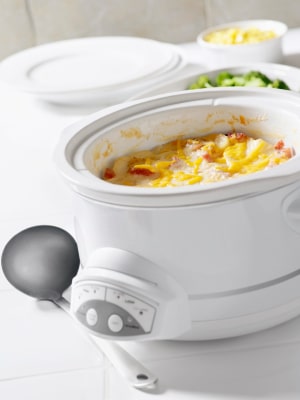 Slow Cooker Scalloped Potatoes
Ingredients
7 to 9 medium potatoes, thinly sliced, about 2 pounds or 4 to 5 cups
1 cup cold water
½ teaspoon cream of tartar
3 tablespoons butter
1 medium onion, thinly sliced
¼ cup all-purpose flour
1 teaspoon salt
¼ teaspoon ground black pepper
1 can (10¾ ounces) condensed cream of mushroom soup
4 ounces American cheese, slices or shredded
Instructions
Toss potato slices in 1 cup water and ½ teaspoon cream of tartar, then drain.
Put half of sliced potatoes in a buttered or greased 3½ to 4-quart slow cooker.
Top with half of onion slices, half of the flour, half of the salt and half of the pepper.
Dot with half of the butter.
Repeat layers; dot with remaining butter.
Spoon soup over the top.
Cover and cook on low 7 to 9 hours, or 3 to 4 hours on high.
Add cheese about 30 minutes before serving.
https://stlcooks.com/slow-cooker-scalloped-potatoes/
Recipe and Photo: vegetarianrecipes.wikia.com / CC BY-SA