Jump to recipe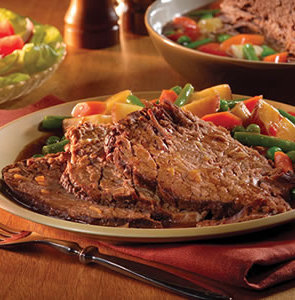 Slow Cooker Savory Pot Roast

Ingredients
3 pounds bottom round beef roast
1 Reduced Sodium Onion Recipe, Soup and Dip Mix pouch
1 jar (12 ounces) Heinz HomeStyle Savory Beef Gravy
2 Beef Bouillon Cubes
1 can (14 1/2-ounces) diced tomato with basil, garlic and oregano
2 cups water
3 cups mixed vegetables, such as sliced carrots, cut green beans, diced redskin potatoes, green peas, sliced celery
Instructions
In large skillet sprayed with nonstick spray, brown beef over medium-high heat 8 to 10 minutes, turning occasionally.
Combine soup mix, 1 jar of gravy, bouillon and diced tomato in 5-quart slow cooker. Add water and stir well. Add beef and turn until well coated. Cover and cook on low heat setting 8 to 10 hours, turning occasionally.
Add mixed vegetables during last 2 hours, stirring occasionally. When vegetables are tender, remove beef from cooker. Slice or shred beef as desired, and serve with vegetables and sauce.
For more great recipes visit Wyler's Bouillon
Recipe and Photo Courtesy of Wyler's Bouillon