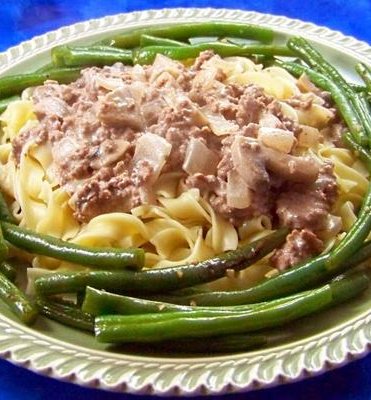 Ingredients
1 pound lean ground beef
1 medium onion, diced
8 ounces mushrooms, sliced
2 cloves garlic, minced
1/2 teaspoon mustard powder
1/2 teaspoon salt
1/2 teaspoon fresh ground pepper
1/2 cup light sour cream
1/2 cup light mayonnaise
1/2 cup low-sodium beef broth
6 ounces No Yolks egg noodles
Instructions
Prepare noodles to package directions.
In a large skillet, over medium-high heat, saute ground beef, garlic, onion, mushrooms, mustard powder, salt and pepper until meat is browned and onion and mushrooms are tender. Drain off excess fat and liquid.
Meanwhile, in a small bowl, combine sour cream, mayonnaise. Stir into beef mixture and let simmer about 10 minutes.
Plate noodles and top with stroganoff or mix noodles in and serve.
https://stlcooks.com/slimmed-down-stroganoff/
Recipe and Photo: Foodista / CC BY