Jump to recipe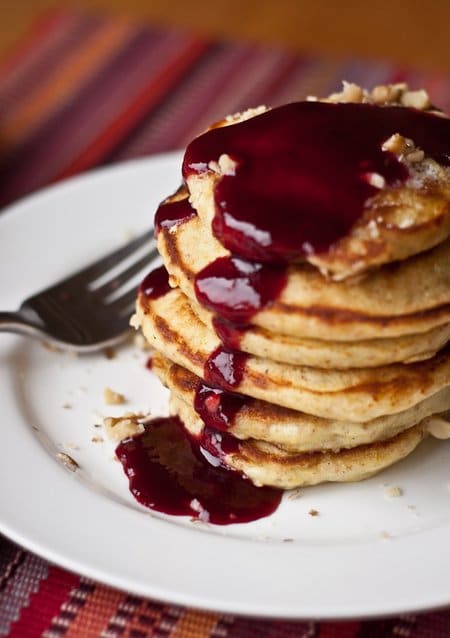 Silver Dollar Pancakes with Blackberry Syrup

Ingredients
Pancake Batter:
1 cup all-purpose flour
3 tablespoons wheat germ
1 tablespoon granulated sugar
1 teaspoon baking powder
1/2 teaspoon baking soda
1/4 teaspoon kosher salt
1 egg
1 cup buttermilk
1/4 cup milk
1 tablespoon unsalted butter, melted and cooled
walnuts, chopped roughly
Blackberry Syrup:
2 cups fresh (or frozen) blackberries
1/4 cup + 2 tablespoons granulated sugar
peeled zest of one lemon
Instructions
Blackberry Syrup:
Combine blackberries with 1/2 cup of water in small saucepan. Bring to boil and simmer, covered, for 10 minutes. Puree berries in blender and strain through fine-meshed sieve into separate bowl.
In clean saucepan, combine sugar, one cup of water, and lemon zest. Bring to boil, swirling occasionally to ensure that sugar is dissolving, and boil it until it reaches 220 degrees Fahrenheit.
Remove zest with spoon, discard, and add the blackberry puree to the sugar–continue to boil until syrup reaches 210 degrees Fahrenheit.
Allow to cool, skim any froth, and serve warm or at room temperature. Store covered in fridge (for up to six weeks).
Pancakes:
Combine flour, sugar, wheatgerm, baking soda, baking powder, and salt in a medium sized bowl.
In separate bowl, whisk together buttermilk, milk, egg, and melted butter.
Add the liquid mixture to the dry ingredients and using a spatula, fold and stir together until just combined. Allow batter to sit for at least 10 minutes.
Heat a tab of butter in large non-stick (or cast-iron) skillet over medium heat. Once the butter begins to sizzle, spoon the batter onto the pan–forming 2-3 small silver-dollar size pancakes (2? in diameter). Avoid over-crowding the pan.
Once bubbles begin to form on the tops of the pancakes, flip them carefully and continue to cook on other side until lightly brown. Adjust heat if necessary.
Serve immediately with the warm blackberry syrup!
Recipe and Photo: Blogging Over Thyme / CC BY-ND