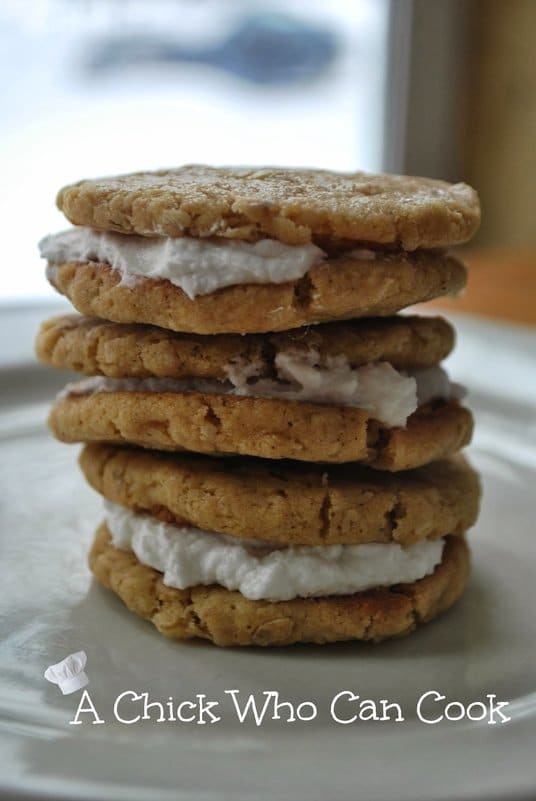 Ingredients
1 cup butter flavored Crisco
¾ cup brown sugar
½ cup granulated sugar
1 Tbsp molasses
1 tsp vanilla extract
2 eggs
1½ cup flour
½ tsp salt
4 tsp baking powder
¼ tsp cinnamon
1½ cup quick oats

Filling:

2 tsp very hot water
¼ tsp salt
1 Cup Marshmallow Fluff
¾ cup butter flavor Crisco
2/3 cup powdered sugar
1 tsp vanilla
Instructions
In large bowl, beat margarine, brown sugar, granulated sugar, molasses, vanilla and eggs. Add flour, salt, baking soda and cinnamon. Mix in the oats. Drop by one rolled tablespoon onto a parchment lined cookie sheet and flatten a little. Bake 8-10 minutes in a 350 degree oven, until just starting to brown around the edges. Do Not Overcook!
While cookies are in the oven combine hot water with salt and mix until salt is dissolved. In large bowl, beat marshmallow fluff with Crisco, powdered sugar and vanilla. Beat on high until fluffy. Add in salt water and mix until well combined.
When cookies are out of oven press on them slightly again to get rid of any puff and cool down.
Spread filling on one cookie and press second cookie on top.
https://stlcooks.com/oatmeal-cream-pies/
Recipe and Photo: Chick Who Cooks / CC BY-SA