Jump to recipe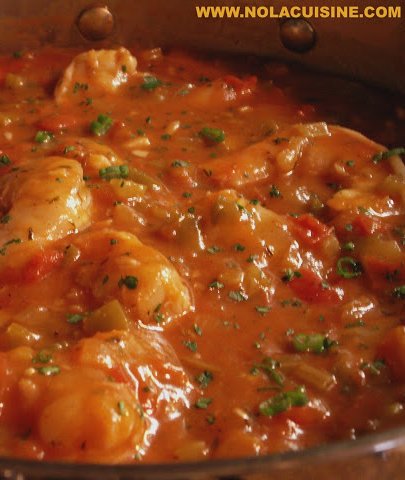 Shrimp Creole

Ingredients
2 lbs. Peeled and Deveined Shrimp, save shells to make Shrimp Stock
2 Tbsp Butter
1 Tbsp Vegetable Oil
1 Large Onion, finely chopped
2 Ribs Celery, finely chopped
1 small Green Pepper, finely Chopped
2 Tbsp Creole Seasoning
2 Tbsp Tomato Paste
2-1/2 Cups Very Ripe Fresh Tomatoes, Diced
1/2 Cup Dry White Wine
2 Cups Shrimp Stock (recipe here)
2 Tbsp Garlic, minced
2 Bay leaves
Cayenne to taste
Diamond Crystal Kosher Salt to taste
1 tsp Black Pepper
1 tsp White Pepper
1 bunch Fresh Thyme
2 Tbsp Tabasco
1 Tbsp Worcestershire Sauce
1/2 Cup Green Onions, green tops thinly sliced, white part sliced into 1/4? thickness
1/8 Cup Flat Leaf Parsley, minced
1 Recipe Creole Boiled Rice
Instructions
Melt the butter in a large sauce pan with the vegetable oil over medium high heat. When the butter begins to froth add 1/2 cup of the onions. Cook, stirring occasionally, until the onions are golden brown. Add the remaining onions, celery, and bell pepper, reduce the heat to medium and season with 1 Tbsp Creole Seasoning and a healthy pinch of salt. Sweat the vegetables until soft.
Add the tomato paste mixing well, and cook, stirring constantly, until the paste begins to brown, then add the fresh tomatoes and another healthy pinch of Kosher salt, this will help the tomatoes break down. Stir well.
When the tomatoes start to break down into liquid add the white wine, and turn the heat to high until most of the alcohol burns off. Add the Shrimp Stock, remaining Creole seasoning, garlic, bay leaves, black pepper, white pepper, cayenne (to taste), and Thyme. Bring to a boil then reduce to a low simmer. Simmer for 30-45 minutes. (If necessary at this point thicken the sauce with 1 Tbsp Cornstarch/ 2Tbsp water. Bring to a boil to maximize the thickening power of the cornstarch.)
Add the hot sauce, Worcestershire, and season to taste with Kosher salt. Last chance to re-season your sauce, remember that good cooking is all about proper seasoning. Make your Boiled Rice, and season your shrimp with 1 Tbsp Kosher salt and a pinch of Cayenne.
Bring the sauce to a boil, reduce the heat to low and add the shrimp. The key is to not overcook your shrimp. Let them slowly simmer in the sauce until just cooked through.
Serve with boiled rice and garnish with the remaining green onions and parsley.
Serve immediately.
The recipe for the shrimp stock can be found here.
Creole seasoning can be bought at most grocers, or you can make your own using this recipe.
The recipe for Creole boiled rice can be found here.
Recipe and Photo: NOLA Cuisine