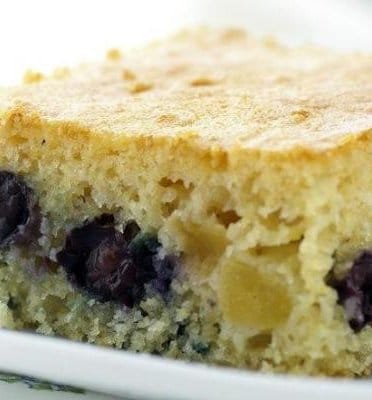 No Guilt Yogurt Blueberry Peach Coffee Cake
Ingredients
1 cup all-purpose flour, plus 1 tablespoon
1/3 cup dry yellow cornmeal
1 1/2 teaspoon lemon peel, finely shredded
1 teaspoon baking powder
1/2 teaspoon baking soda
1/4 teaspoon salt
3/4 cup fat-free plain yogurt
2 medium egg whites
1/4 cup sugar
1/4 cup honey
1/4 cup canola oil
1 cup fresh or frozen blueberries
1/2 cup peaches (fresh or frozen), unsweetened slices thawed, drained and chopped
Instructions
Preheat oven to 350°F. Lightly coat an 8x8x2-inch baking pan with nonstick cooking spray; set aside. In a large bowl stir together the 1 cup flour, the cornmeal, lemon peel, baking powder, baking soda, and salt. Make a well in the center of the flour mixture; set aside.
In medium bowl combine yogurt, egg whites, sugar, honey, and oil. Add yogurt mixture all at once to flour mixture; stir just until combined. In small bowl combine blueberries, peach, and the 1 tablespoon flour; toss gently to coat.
Spread about half the batter in the prepared baking pan. Sprinkle with the fruit mixture. Spoon mounds of the remaining batter over the fruit mixture, then spread evenly over fruit (the batter may not completely cover the fruit).
Bake about 40 minutes or until coffee cake is golden brown and a toothpick inserted near the center comes out clean. Cool in pan on a wire rack for 30 minutes. Serve warm.
https://stlcooks.com/no-guilt-yogurt-blueberry-peach-coffee-cake/
Recipe and Photo: Foodista / CC BY