Jump to recipe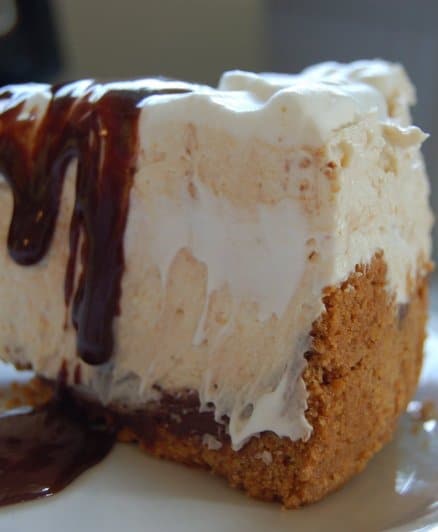 Chocolate Peanut Butter Pie

Ingredients
2 cups graham cracker crumbs
6 tablespoons melted butter
1 cup peanut butter
4 ounces bittersweet or semi-sweet chocolate, chopped
2 1/2 cups heavy cream
1 pound cream cheese, at room temperature
2 cups powdered sugar
1 cup milk
1/4 cup chocolate chips
Chocolate Sauce (see below)
1 cup Whipped Cream
Instructions
Preheat oven 350ºF.
In a saucepan, melt the butter and a 1/4 cup peanut butter together. Add to the graham cracker crumbs. Mix thoroughly.
Press into the bottom and half-way up the sides of a 9-inch springform pan.
Bake until golden, about 6-8 minutes. Cool completely.
In another saucepan, heat a 1/2 cup heavy cream. Add 4 ounces of chocolate. Turn off the heat and stir until all the chocolate is melted.
Pour chocolate mixture into the crust. Put in the refrigerator for at least an hour to set up.
In the bowl of an electric mixer, beat the cream cheese and 1 1/2 cups powdered sugar until creamy. Add 3/4 cup of peanut butter. Beat until smooth.
Add the milk and chocolate chips. Beat well.
In another mixing bowl, whip 2 cups of cream until soft peaks form. Add 1/2 cup powdered sugar and continue to beat until firm (be careful not to over do it).
Fold the whipped cream into the peanut butter mixture.
Spoon into the crust on top of the chocolate layer. Cover with plastic wrap and refrigerate for at least 2 hours.
Add a layer of whipped cream to the top and serve with chocolate sauce.
You can use a store bought chocolate sauce, or you can click here for an easy recipe on how to make your own.
Recipe and Photo: Foodista / CC BY