Jump to recipe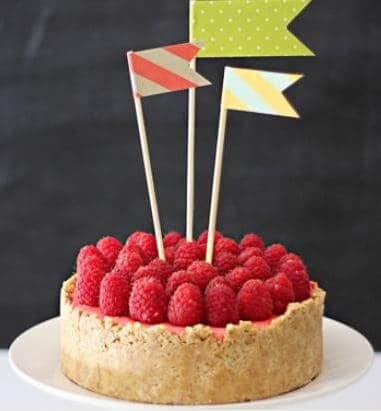 Ingredients
1 pkg (6 oz.) of raspberry jello
1 container (1.5 qts) of vanilla ice cream
fresh raspberries
Graham Cracker Crust:
8 graham crackers
6 Tbs. butter
2 Tbs. sugar
Instructions
Mash graham crackers and mix with butter & sugar. Press evenly into dish. Chill in refrigerator for at least 15 minutes to mold. Double for extra-thick crust.
Add 2 cups of boiling water to a package of raspberry jello in a large bowl and stir until dissolved.
Add 1 container of vanilla ice cream to water & jello mixture [while the water is hot]. Stir until ice cream is evenly mixed throughout.
Pour into prepared graham cracker crust. For a more ice cream-like texture put in the freezer. For pudding-like texture put in refrigerator. Allow to set for 2 hours.
Serve with fresh raspberries (or a mix of berries, peaches).
Measurements are for a 9×13-inch pan, adjust for what you have on hand. You can experiment with different flavors after your first try. ENJOY!
Recipe and Photo: Act of Faith Blog / CC BY