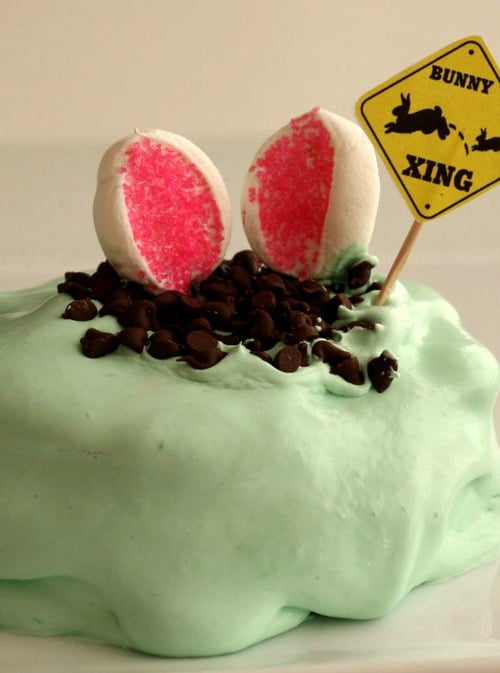 Rabbit Hole Pancake Stacks
Ingredients
9 pancakes (cooked about 5" in diameter, use any recipe or your favorite mix)
3 T. Peanut Butter
3 Ts. Jelly
8 oz. tub Whipped Topping, thawed
4-5 drops Green food Coloring
3 T. mini chocolate chips
2 Large Marshmallows
9 Toothpicks
Pink colored sugar (optional)
Instructions
You will need 3 pancakes for each rabbit hole stack. Yum!
To assemble, spread 1/2 T.peanut butter and 1/2 T. jelly on top of one pancake. Place second pancake on top. Spread 1/2 T. peanut butter adn 1/2 T. jelly on second pancake and top with third pancake. We used Peanut Butter & Jelly because my kids requested it, but you could use anything! Jam, flavored cream cheese, you name it!
Mix whipped topping with a few drops green food coloring. Divide topping in 3 parts and spread over pancake stacks.
Drop 1 T. mini chocolate chips on top of each pancake stack to form a "rabbit hole"
Snip each marshmallow into 3 pieces. Dip one side into colored sugar (optional). Insert toothpick into each marshmallow and insert two of them into pancake stack to make your "bunny ears".
https://stlcooks.com/rabbit-hole-pancake-stacks/
Print and cut out Bunny Crossing Signs. Tape to toothpicks and insert into pancake stacks. Serve immediately.
Recipe and Photo: Gourmet Mom on the Go / CC BY