Jump to recipe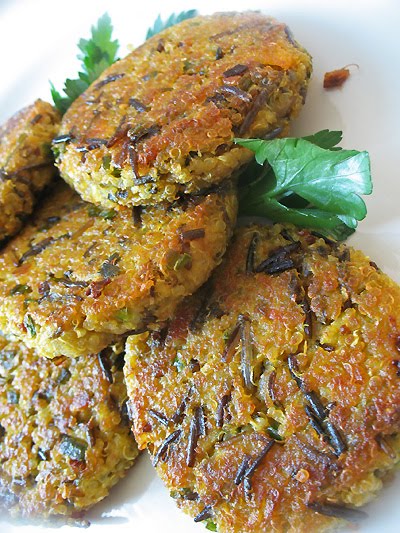 Delicious and wholesome quinoa and wild rice cakes seasoned with curry spices
Quinoa and Wild Rice Savory Cakes

Delicious and wholesome quinoa and wild rice cakes seasoned with curry spices

Notes
To make one flax egg, combine 1 tablespoon ground flax seeds with 3 tablespoons water. Let sit for 15 minutes before using.

Ingredients
3/4 cup quinoa
1/3 cup wild rice
1 teaspoon sesame oil
2 green onions, green and white parts, finely chopped
1 clove garlic, minced
2 or 3 fresh green chilies or jalapeños, seeded and finely chopped
1 small tomato, seeded and finely chopped
1 teaspoon ground cumin
1 teaspoon ground coriander
1/2 teaspoon turmeric
1/2 teaspoon chili powder
1/4 teaspoon cayenne
1 teaspoon sea salt
1 large egg, beaten
1/2 cup whole wheat or quinoa flour (or as needed)
3 tablespoons sesame oil for frying
Instructions
Thoroughly rinse the quinoa and soak overnight in 1 1/2 cups water. Bring to a boil, reduce heat to low, cover, and simmer for 15 minutes or until the water is absorbed. Remove from heat and set aside.
Meanwhile, combine the wild rice in a small saucepan with 3/4 cups of water and bring to a boil. Reduce the heat to low, cover and simmer for 30 minutes or until the rice begins to break apart. Drain off excess water and set aside
Heat 1 teaspoon of the oil over medium heat in a frying pan. When hot, toss in the green onion, garlic and chilies or jalapeños. Stir for 2 to 3 minutes, then toss in the spices and salt and stir for 1 minute. Add the tomato and continue to stir for another 5 minutes. Transfer to a small bowl and set aside.
Transfer the cooked rice and quinoa to a large bowl, fluff with a fork, mashing slightly, and stir in the fried onion mixture, egg and flour until well combined. Add more flour as necessary so that the mixture is not too moist and holds together.
Heat the remaining oil over medium heat in a non-stick frying pan. When hot, form the quinoa and rice mixture into 2-inch round and 1/2-inch thick patties and add to the pan. Fry for 5 minutes until golden brown, then flip and fry for another 5 minutes until both sides are golden brown. Drain on paper towels.
Serve warm topped with yogurt or your favorite chutney. Can be reheated in foil wrap at a low temperature in the oven if made prior to dinnertime.
Recipe and Photo: Laura's Vegetarian Kitchen / CC BY