Jump to recipe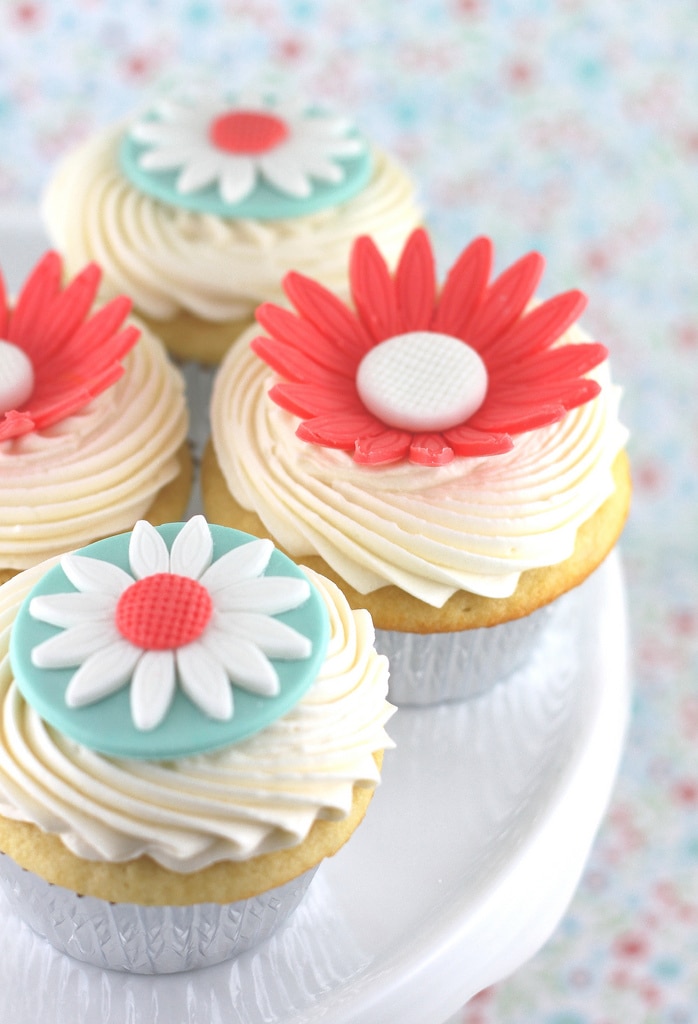 Hummingbird Bakery Vanilla Cupcakes with Red and Blue Fondant

Ingredients
For the cupcakes:
1 cup all-purpose flour
a little less than 3/4 cup sugar
1-1/2 tsp baking powder
a pinch of salt
3 tbs unsalted butter, room temperature
1/2 cup whole milk
1 egg
1/4 tsp vanilla extract
For the buttercream frosting:
3 cups powdered sugar (approximate)
1/3 cup butter, room temperature
1-1/2 tsp vanilla extract
2 tbs milk (approximate)
For the decorations:
Fondant of choice (this recipe calls for red, white, and blue)
Instructions
For the cupcakes:
Preheat oven to 325 degrees F. In bowl of stand mixer, combine flour, sugar, baking powder, salt and butter with paddle on slow. When the mixture forms a sandy consistency (this will happen pretty quickly), slowly pour in half the milk. Stop mixing once combined.
In a small bowl, whisk the other half of the milk together with the egg and vanilla (this will just take a few seconds.) Pour into flour mixture and mix until smooth (no more than a couple minutes.) Scrape the bowl as you are mixing.
Pour into a muffin tin that is lined with cupcake wrappers. Each wrapper should be no more than 2/3 full. This will make 8 cupcakes. Bake for 20 to 25 minutes at 325 degrees F. Cupcakes are done when a toothpick inserted into the center comes out clean.
For the buttercream frosting:
Beat butter for a couple minutes on high, using paddle attachment. Turn mixer to low and slowly add powdered sugar. Add vanilla extract and slowly add milk. Increase speed and beat for another minute or two, until fluffy. For thicker frosting, add more powdered sugar. For thinner frosting, add more milk. (Added: This is an Ateco 867 tip.)
For the decorations:
Recipe and Photo: The Crafty Penguin / CC BY