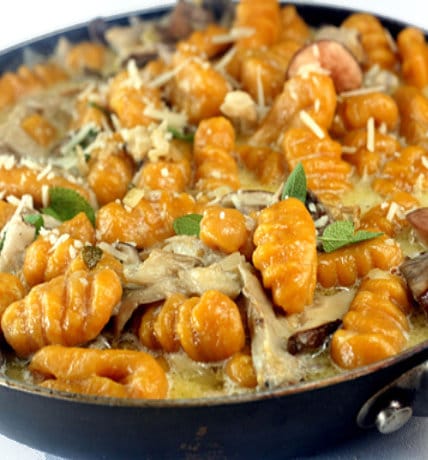 Ingredients
2 cups pumpkin puree (fresh or canned) or 2 cups mashed sweet potato
1 egg
2 to 3 cups AP flour
1/2 teaspoon salt
Grated, fresh nutmeg, about 1/4 teaspoon.
Instructions
Put the pumpkin puree in a strainer over a bowl overnight or for at least 2 hours, covered in the refrigerator.
https://stlcooks.com/pumpkin-gnocchi/
For full recipe instructions, visit Parsley, Sage, and Sweet by clicking here!
The recipe for the creamy mushroom sauce can be found by clicking here.
Recipe and Photo: Parsley, Sage, and Sweet / CC BY-ND