Jump to recipe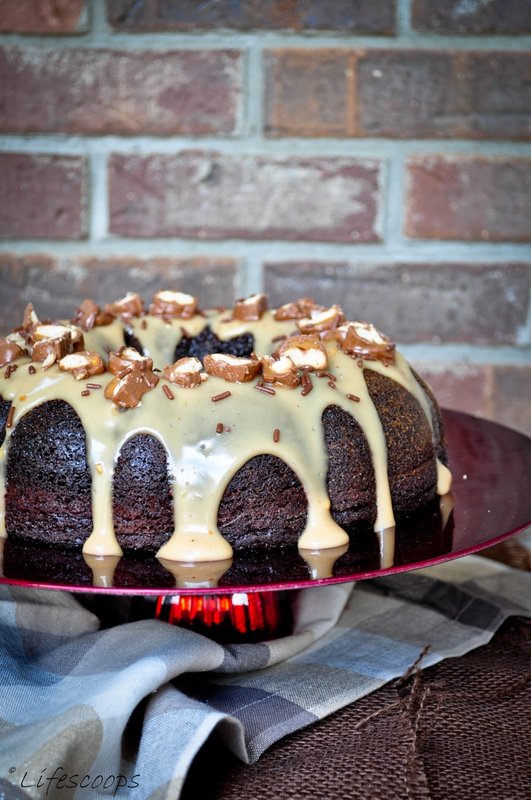 Ingredients
1 3/4 Cups – All-purpose flour
2 cups –Sugar
3/4 Cups – Cocoa powder
2 Teaspoon – Baking soda
1 Teaspoon – Baking powder
1 Teaspoon – Salt
1 Cup – Buttermilk
1/2 Cup – Vegetable oil
2 – Eggs, at room temperature
1 Teaspoon – Vanilla extract
1 cup – Freshly brewed hot coffee
Butter or shortening for greasing the pans
Instructions
Preheat the oven to 350 degrees F.
Grease and flour the bundt pan.
Sift the flour, sugar, cocoa, baking soda, baking powder, and salt
Whisk the buttermilk, oil, eggs, and vanilla.
With the mixer on low speed, slowly add the dry ingredients to the wet in 3 batches.
Mix in the coffee and whisk until the all the ingredients have been incorporated. The batter will be runny
Pour the batter into the prepared pan and bake for 50 minutes, or until a cake tester comes out clean.
Cool in the pans for 30 minutes, then turn them out onto a cooling rack and cool completely.
To get the recipe for the Kahlua sauce and final assembly, visit Life Scoops by clicking HERE!
Recipe and Photo: Life Scoops / CC BY