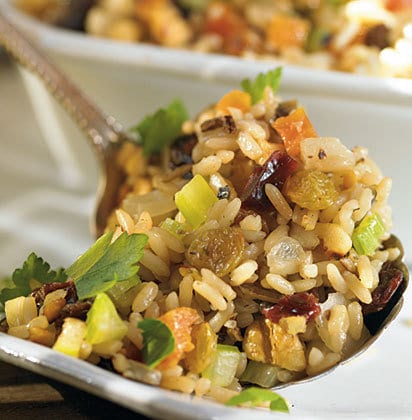 Holiday Herb and Nut Pilaf
Ingredients
1 tablespoon butter
1 medium onion, finely chopped
1 cup thinly sliced shiitake or button mushrooms
1 clove garlic, minced
1 medium red or yellow bell pepper, chopped
3 cups cooked rice (cooked in beef broth)
¾ cup coarsely chopped toasted pecans
1 tablespoon chopped fresh thyme or 1 teaspoon dried thyme
½ teaspoon salt
¼ teaspoon ground black pepper
Instructions
Heat butter in large skillet over medium-high heat until hot.
Add Onion, Mushrooms and garlic. Cook and stir 3 to 5 minutes or until Onion is tender.
Add red bell pepper cook and stir 1 to 2 minutes.
Add rice, pecans, thyme, salt and pepper. Cook and stir 2 to 3 minutes or until thoroughly heated.
https://stlcooks.com/holiday-herb-and-nut-pilaf/
Recipe and Photo: recipes.wikia.com / CC BY-SA