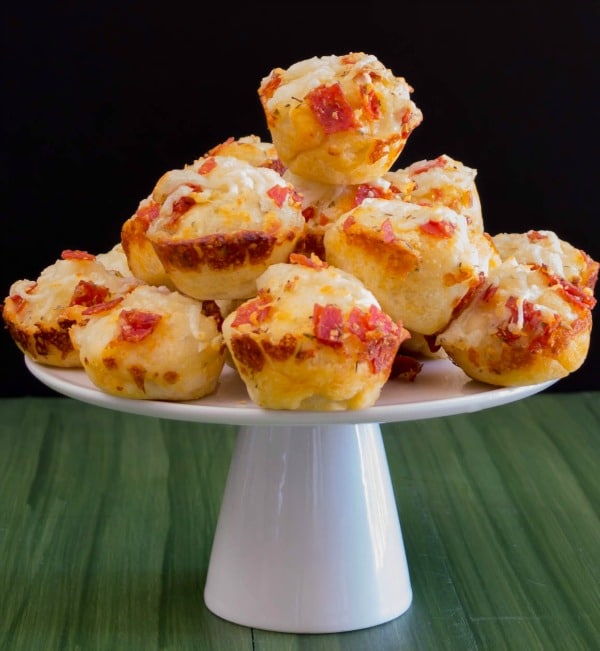 Ingredients
For dough

1 cup warm water (100° to 110°)
10 ounces bread flour (2 cups )
1 package dry yeast (about 2¼ teaspoons)
1 Tbsp olive oil
½ tsp kosher salt

For Topping

½ cup pepperoni, diced
1 cup mozzarella/provolone cheese, shredded
½ tsp dried thyme
½ tsp dried oregano
Instructions
For Dough

Weigh or lightly spoon flour into dry measuring cups and spoons; level with a knife. Add flour, salt and yeast to large bowl. Add olive oil to one side of bowl. Slowly add in water and stir with wooden spoon to combine.
Once dough comes together, place on lightly floured counter and knead to form soft elastic dough. Place dough in large bowl lightly coated with olive oil. Gently roll dough around bowl to coat. Cover and let rise for 1 hour or until doubled in size.

For Topping

In a large bowl combine cheese, chopped pepperoni and seasoning.

To Assemble

Place a small piece of dough in the bottom of a mini muffin pan coated with non-stick spray.
Top dough with pepperoni mixture.
Bake at 400 degrees for 10-12 minutes.
https://stlcooks.com/pepperoni-pizza-bites/
Recipe and Photo: Pick Fresh Foods / CC BY