Jump to recipe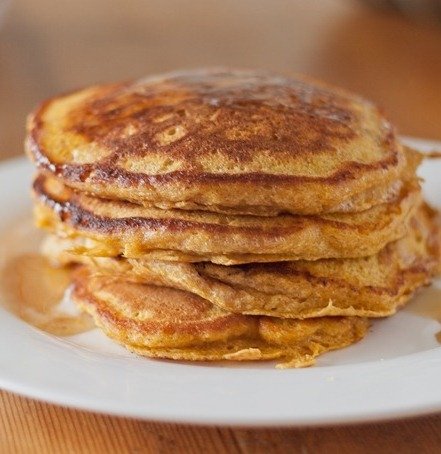 Pumpkin Souffle Pancakes

Ingredients
1 1/4 cup all purpose (unbleached) flour
2 tablespoons granulated sugar
2 teaspoons baking powder
1 teaspoon ground cinnamon
pinch ground ginger
pinch ground cloves
1/2 teaspoon sea salt
1 cup skim milk
3/4 cup canned pumpkin puree
1 teaspoon vanilla extract
4 large eggs (separated)
2 tablespoons unsalted butter, melted
Instructions
In a large bowl, combine the flour, baking powder, salt, sugar, and spices. Set aside.
In another separate bowl, whisk together the milk, pumpkin puree, vanilla, melted butter, and egg yolks (place egg whites in a seperate bowl or stand mixer bowl).
Add pumpkin mixture to dry ingredients, folding with a spatula gently, until just combined. Set aside.
Meanwhile, using a hand-mixer or stand mixer (with whisk attachment), whisk egg whites over low speed until foamy. Increase speed to medium-high and whisk until egg whites are stiff (peaks will hold) but still wet. **Note: Although it is not essential that the egg whites be room temperature when you start this step, it will make the process easier and much more effective.
Gently fold egg whites, in two separate additions, into the pumpkin batter.
Heat a tab of butter in large non-stick skillet over medium heat. Once the butter begins to sizzle, add batter to pan (you can always a test coin-sized pancake to check whether the pan is ready).
Once bubbles begin to form on the top of the pancake, flip carefully and continue to cook on other side until brown–this step is easier if you keep pancakes no larger than 4 inches in diameter. Adjust heat if necessary.
Top with butter and warm maple syrup. Enjoy!
Recipe and Photo: Blogging Over Thyme / CC BY