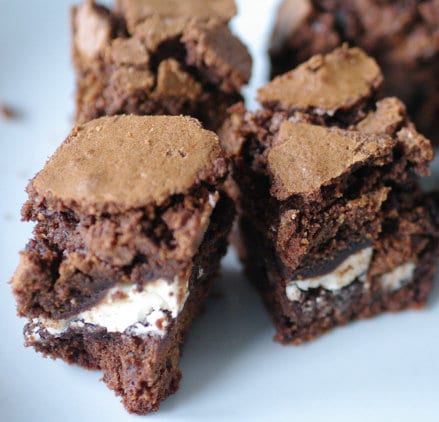 Peppermint Patty Brownies
Ingredients
8 ounces fine-quality bittersweet chocolate (not unsweetened), coarsely chopped (I used semi-sweet chocolate chips)
2 sticks (1 cup) unsalted butter
1 1/4 cups all-purpose flour (5.5 ounces)
1 teaspoon baking powder
1/2 teaspoon salt
2 cups sugar (if you add the Peppermint Patties, use 1-1/4 cups)
4 large eggs
2 teaspoons vanilla
1 bag mini Peppermint Patties
Instructions
Put oven rack in middle position and preheat oven to 350°F. Grease a 9-inch square baking pan (2 inches deep) and line bottom and sides with wax paper, then butter paper. (I seriously don't understand this wax paper step, especially since my box of wax paper says not to use in an oven. I used foil and I think it caused the sides to crisp up too much)
Melt butter and chocolate in a medium heatproof bowl set over a saucepan of simmering water, stirring occasionally, until smooth.
Whisk together flour, baking powder, and salt in a small bowl. Whisk together sugar, eggs, and vanilla in a large bowl, then pour in chocolate mixture, whisking until combined well. Whisk in flour mixture. Transfer half of batter to baking pan, add a layer of Peppermint Patties and cover with remaining batter.
Bake until top is shiny and set and sides have begun to pull away slightly (a wooden pick or skewer will not come out clean), about 35 minutes, for fudgy brownies; or until wooden pick or skewer comes out clean, 50 minutes to 1 hour total, for cakey brownies. (This is a lie. I had to bake for an hour and 15 minutes to get the batter to set and they came out fudgy, which I wanted. Watch closely! I think the recommended pan size was too small though)
Cool brownies completely in pan on a rack. Invert onto a cutting board, remove paper, and cut into squares, making sure to cut large enough so there's a Peppermint Patty in each square.
https://stlcooks.com/peppermint-patty-brownies/
Recipe and Photo: Pestle Mortar / CC BY-ND