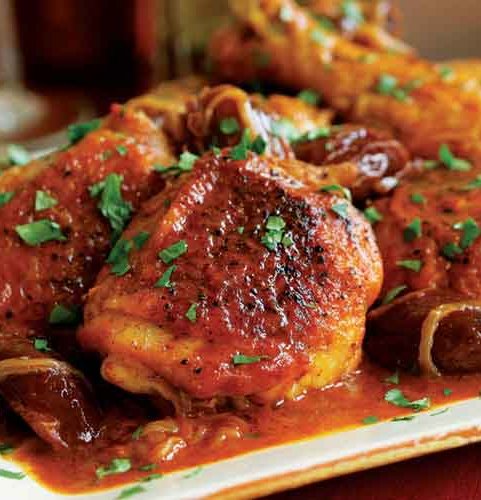 Braised Chicken with Chiles
Ingredients
3-4 green chiles, skinned, seeds removed, chopped
3-lb Chicken, cut into 8 to 10 pieces
2 tbsp butter
1 tbsp peanut oil
1 Onion, sliced and separated into rings
1 cup chicken broth
1/2 tsp salt
pepper to taste
Instructions
Melt the butter and oil and brown the Chicken, a few pieces at a time. As the Chicken browns, remove and keep warm. Add the Onion rings and saute until soft.
Add the broth, nutmeg, salt, pepper, and chile and bring to a boil. Put the Chicken back in the pan, cover with the stock, reduce the heat, and simmer until the Chicken is done—about 45 minutes.
Variation: Make a stew by adding coarsely chopped onions, tomatoes, and corn while the Chicken is simmering.
https://stlcooks.com/braised-chicken-with-chiles/
Recipe and Photo: recipes.wikia.com / CC BY-SA