Jump to recipe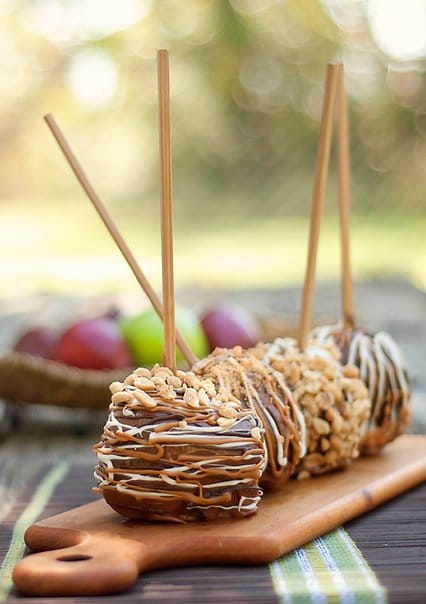 Ingredients
1/2 cup peanut butter
3 tablespoons melted butter
1/4 cup finely crushed graham cracker crumbs
1/2 cup powdered sugar
4 medium apples, washed and thoroughly dried
Non-stick cooking spray
1 (11–ounce) bag caramel bits
2 tablespoons water
4 wooden dowel rods, about 12 inches long, 1/4–inch diameter, found in the craft section
1/2 cup chocolate chips or bark or melting disks
1/2 cup white chocolate chips or bark or melting disks
1/2 cup butterscotch chips or bark or melting disks
Chopped peanuts for sprinkling
Chopped Butterfinger candy bars for sprinkling
Instructions
In a small mixing bowl, combine the peanut butter, butter, graham cracker crumbs, and powdered sugar until smooth. Set aside.
Core each apple with an apple corer. Divide the peanut butter mixture evenly between the apples, filling or stuffing each hole using a spoon. (use the spoon to push the mixture into the hole.) Level off excess peanut butter mixture at ends. Turn each apple on its side. Insert a skewer into the middle of the side of each of the apples, through the peanut butter filled hole, and about halfway through the next side. Set aside.
Line a baking sheet with waxed paper and spray with non-stick cooking spray. Heat the caramel bits and water in a medium heavy saucepan over low heat until melted and smooth, stirring often. Dip apples into melted caramel one at a time, spooning caramel over apples to coat. Let excess drip off and place apples on wax-paper, skewer straight up (apples may not stand up perfectly straight, but that's okay). Refrigerate for about 1 hour, or until caramel sets.
Place each of the three kinds of chips in a small microwave-safe bowl and heat one at a time on high heat for 60-90 seconds, stirring every 30 seconds, until chips are melted and smooth. Fill 3 zip lock sandwich bags with each of the melted chips, pressing to one corner like a pastry bag. Cut a very small hole (no more than an 1/8 of inch) in the corner of each bag. Pipe stripes up and down the apple by squeezing the mixture gently through the hole while turning the apple with the skewer. Sprinkle apples with the chopped peanuts and/or Butterfingers. Refrigerate for 10 minutes or until chocolate hardens. Bring to room temperature before eating.
Recipe and Photo: Lorie's Mississippi Kitchen / CC BY (Be sure to visit Lorie's page, to see her gorgeous step-by-step photos on how to make this recipe!)