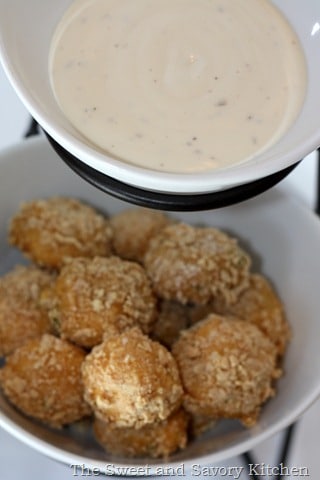 Ingredients
3 cups cooked chicken, shredded
1/4 to 1/2 cup hot sauce (adjust to your level of heat)
3 1/2 oz cream cheese, softened
1 3/4 cup cheddar cheese, shredded
1/4 cup green onion, diced
1 cup all purpose flour
4 eggs, lightly beaten
3 to 4 cups cornflakes cereal, crush (I used Special K)
Ranch dressing, (or bleu cheese)
Instructions
Preheat oven to 350 degrees. Line a large baking sheet with parchment paper.
In a large bowl, mix together the chicken, cream cheese, and hot sauce until combined. Stir in the cheddar cheese and green onions. Using a small cookie scoop, spoon out the chicken mixture and roll into about 1 1/2 inch balls. Place on a plate until ready to dip.
In three separate bowls, set out the flour, eggs, and cornflakes. Dip each ball into the flour, then egg, then cornflakes. Place on the parchment lined baking sheet and bake for 20 to 25 minutes. Serve warm with ranch or blue cheese dressing.
https://stlcooks.com/buffalo-chicken-bites/
Recipe and Photo: Whole Lotta Oven / CC BY