Jump to recipe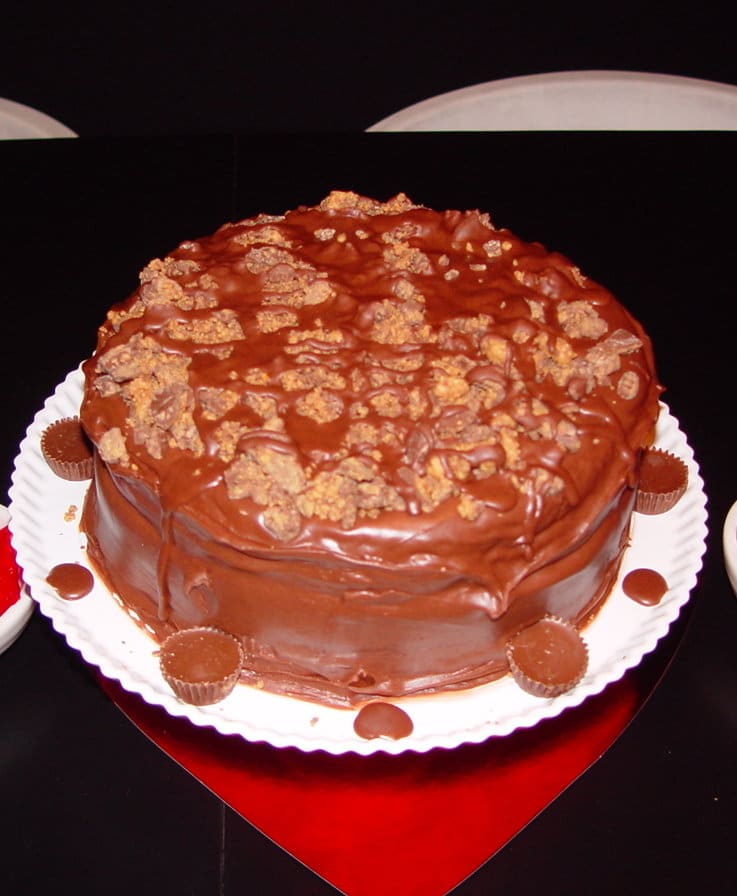 Ingredients
1 3/4 cups Boiling Water
1 cup Quick-Cooking Oats
1/2 cup Butter
1 cup Light Brown Sugar
1 cup Sugar
1 teaspoon Vanilla
2 Eggs
1 1/2 cups Unsifted Flour
1 teaspoon Baking Soda
1/2 teaspoon Baking Powder
1/4 teaspoon Cinnamon
1/4 teaspoon Salt
5 Reese's Peanut Butter Cups, 0.6–Oz Size
3 tablespoons Butter
3 ounces Unsweetened Chocolate
3 cups Confectioner's Sugar
1/4 teaspoon Salt
1/2 cup Milk
1 teaspoon Vanilla
Instructions
Combine water and oats; cool to room temperature. Cream butter, brown sugar, sugar and vanilla; beat in eggs. Blend in oatmeal mix. Combine flour, baking soda, baking powder, cinnamon and salt. Add to creamed mix.
Beat 1 minute on medium speed. Pour batter into a greased and floured 13?x9? pan. Chop peanut butter cups and sprinkle on top of batter; do not stir.
Bake at 350 degrees 40-45 minutes.
Frosting: melt butter. Add chocolate and stir constantly over low heat until melted. Pour into a bowl and add remaining ingredients; beat until well blended. Chill to spreading consistency and frost cake.
Photo: Merelymel13 on flickr / CC BY-SA