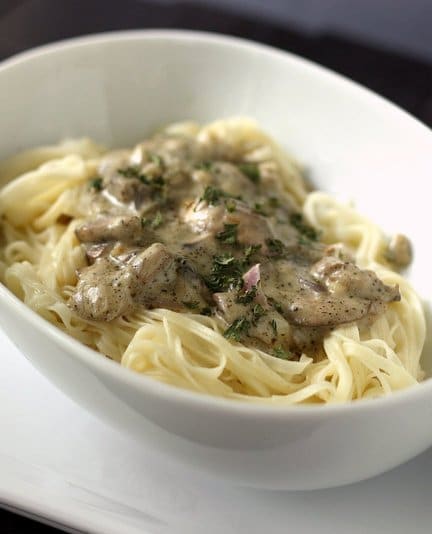 Pasta with Creamy Mushroom Sauce
Ingredients
500 grams pasta
2½ cups sliced mushrooms
1 large onion (chopped)
1 tsp basil
1 tsp oregano
1 tsp thyme
¾ cup cooking sherry
2 tbsp cream cheese
1 cup milk
1 – 2 cloves garlic (crushed)
salt and pepper to taste
Instructions
In a large pot, boil water for pasta.
While pasta is cooking, saute onions in olive oil for about 5 minutes.
Add sliced mushrooms to the onions and continue to saute.
Add the herbs and salt and pepper.
Once the mushrooms are cooked, add the sherry and mix in the cream cheese.
Let the wine and cream cheese sauce reduce a little and then add the soy milk.
Add the garlic and let the sauce thicken for a couple of minutes before pouring over the cooked pasta.
https://stlcooks.com/pasta-with-creamy-mushroom-sauce/
Recipe and Photo: recipes.wikia.com / CC BY-SA