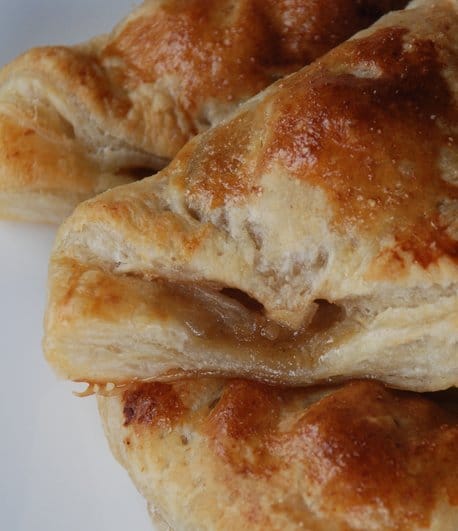 Ingredients
1 frozen puff pastry sheet, thawed
1 large baking apple (I used a Granny Smith), peeled, cored, diced
3 Tbsp chopped walnuts (or pecans)
¼ cup light brown sugar
½ tsp apple pie spice (if you can't find you can use cinnamon)
½ tsp corn starch
¼ cup unsweetened applesauce
¼ tsp vanilla extract
1 large egg, lightly beaten
1 tsp milk
Instructions
Place oven rack in the lower third of oven and pre-heat oven to 400. Line a baking sheet with parchment or Silpat.
In a medium bowl, mix together apples and walnuts with sugar, apple pie spice, and corn starch, making sure the fruit and nuts are well coated. Mix in the apple sauce and vanilla.
In a small bowl, mix the beaten egg with a teaspoon of milk. Set aside.
Unfold the thawed pastry sheet on a lightly floured surface. Roll out pastry to a rectangle and cut into 5×5-inch or 4×4-inch squares. I was able to get about 12 squares. I used a pizza cutter to help in cutting the squares.
Place about a tablespoon of the apple mixture among the squares, leaving a 1-inch border. Fold each pastry into a triangle, enclosing the filling, and crimping edges with a fork. Brush the tops of the pastries with the egg wash. Cut 2 small steam vents in the top of each turnover.
Place pastries on prepared pan and bake at 400 for 15 minutes, or until puffed and golden. Cool turnovers to warm before serving.
https://stlcooks.com/apple-turnovers/
Recipe and Photo: Multiply Delicious / CC BY