Jump to recipe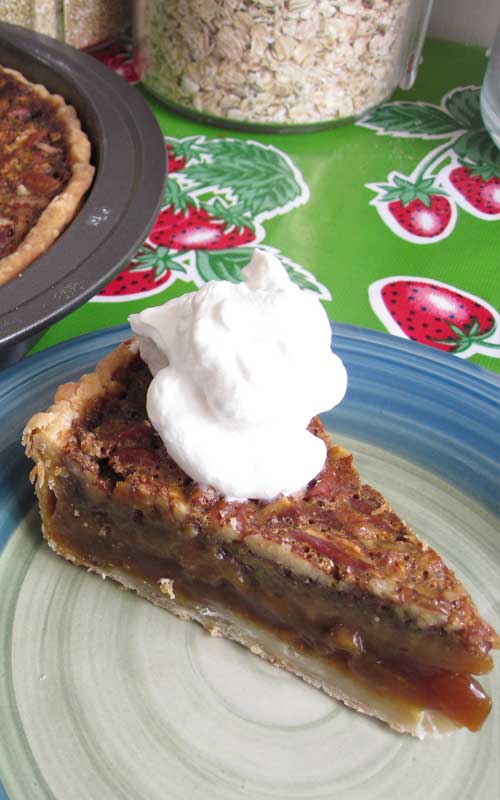 Old-Fashioned Pecan Pie – A pie as delicious and easy to make as this ought to be enjoyed all year round.
Old-Fashioned Pecan Pie

A pie as delicious and easy to make as this ought to be enjoyed all year round.

Ingredients
1 cup maple syrup
1 cup packed light brown sugar
1/2 cup heavy cream
1 tablespoon molasses
4 tablespoons unsalted butter, cut into 1/2-inch pieces
1/2 teaspoon salt
6 large egg yolks, lightly beaten
1 1/2 cups pecans, toasted and chopped (to toast, scatter whole pecans on baking sheet and bake at 350°F for about 5 minutes).
1 (9-inch) unbaked pie shell, chilled in pie plate for 30 minutes
Instructions
Make Filling:
Adjust oven rack to lowest position and heat oven to 450°F. Heat syrup, sugar, cream, and molasses in saucepan over medium heat, stirring occasionally, until sugar dissolves, about 3 minutes. Remove from heat and let cool 5 minutes. Whisk butter and salt into syrup mixture until combined. Whisk in egg yolks until incorporated.
Bake Pie:
Scatter pecans in pie shell. Carefully pour filling over. Place pie in hot oven and immediately reduce oven temperature to 325 degrees. Bake until filling is set and center jiggles slightly when pie is gently shaken, 45 to 60 minutes. Cool pie on rack for 1 hour, then refrigerate until set, about 3 hours and up to 1 day. Bring to room temperature before serving.
Homemade whipped cream:
In a cold metal bowl (I usually put the metal mixing bowl and the mixer blades in the freezer for 5-10 minutes before using; the colder the better!), whip 1 cup heavy whipping cream. When the cream begins to thicken, add 1/3 cup powdered sugar and 1 teaspoon vanilla extract and continue to whip until the cream forms and holds peaks (but be careful not to over-whip or it'll start to thicken like butter).
Recipe and Photo: The Patron Saint of Pie / CC BY