Jump to recipe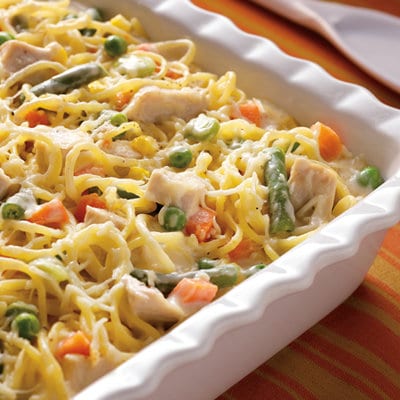 Ingredients
Sauce
¾ cup butter or margarine
¾ cup flour
3 teaspoons salt
? teaspoon nutmeg
1 quart milk
2 cups turkey broth (recipe follows)
4 egg yolks
1 cup heavy cream
½ cup dry sherry
Turkey stock
1 turkey carcass
3 cups water
3 parsley sprigs
2 carrots (pared and halved)
3 celery tops
2 onions (halved)
2 teaspoons salt
10 black peppercorns
1 bay leaf
Casserole
1 (1 lb) package thin spaghetti
6 cups leftover cooked turkey or cooked chicken, into into 1½-inch pieces
2 (6 ounce) cans whole mushrooms, drained
1 (8 ounce) package sharp cheddar cheese, grated (2 cups)
Instructions
Melt butter in a large saucepan. Remove from heat and stir in flour, salt and nutmeg until smooth. Gradually add milk and stock or broth; bring to boiling, stirring constantly; boil 2 minutes or until slightly thickened.
Using a wire whisk beat the egg yolks in a small bowl with the cream. Beat in a little of the hot mixture. Pour back into saucepan; cook over low heat, stirring constantly, until sauce is hot—do not boil. Remove from heat. Stir in the sherry.
Meanwhile, in a large stockpot, bring 6 quarts of water to boiling; add 2 tablespoons salt and the spaghetti; cook as label directs; drain in colander. Return spaghetti to kettle. Add 2 cups sauce; toss lightly until spaghetti and sauce are well combined.
Combine turkey and mushrooms in a large bowl. Add 2 cups of sauce to this mixture and mix well.
Divide the spaghetti in half and place in two 12 x 8 x 2-inch baking dishes, arranging around the edges. Spoon half of the turkey mixture into the center of each dish. Reserve rest of sauce for later use. Sprinkle cheese over spaghetti in each dish. Cover with foil; refrigerate 1 hour or overnight.
About 1 hour before serving, preheat oven to 350°F. Bake, covered 45 minutes. reheat sauce; spoon over spaghetti in each dish.
The above preparation makes a company-attractive casserole. However I usually prefer to combine all the sauce with the spaghetti, turkey and mushrooms in step 3.
To freeze
Line one of the baking dishes with foil; assemble casserole as directed.
Fold foil over to seal; freeze right in the dish.
When frozen, lift out foil; remove dish from freezer.
To serve: unwrap, return to casserole dish and let stand 1 hour to thaw.
Bake, covered for 1 hour at 350 degrees or until bubbly.
Turkey stock
Break up carcass.
Place in a stock pot with water, parsley sprigs, carrots, celery tops, onions, salt, black peppercorns and bay leaf.
Bring to boiling; reduce heat; simmer, covered 2 hours.
Strain.
Boil gently, uncovered, to reduce stock to 2 cups.
This may be done ahead.
Recipe and Photo: recipes.wikia.com / CC BY-SA