Jump to recipe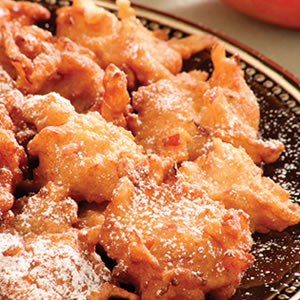 New Orleans Beignets

Ingredients
1 whole egg
3 tablespoons superfine sugar
1/2 cup milk
1/4 teaspoon vanilla extract
3/4 cup flour
1/4 teaspoon salt
1/4 teaspoon ground cinnamon
2 apples, cored and sliced into matchsticks
Oil for deep frying
Confectioner's sugar for dusting
Instructions
Separate egg and mix yolk with 2 tablespoons sugar. Stir in milk, vanilla and dry ingredients and mix until smooth. Leave batter mixture to rest in the fridge for 20 minutes.
Whisk egg white to form soft peaks. Gradually whisk in remaining sugar. Gently fold egg whites and apples into batter.
Heat deep frying oil to a high heat (340°F). Spoon small scoops of batter carefully into oil. Cook until golden on each side. Lift out and place on paper towels to drain. Dust with confectioner's sugar and serve immediately.
Recipe and Photo Courtesy of jazzapple