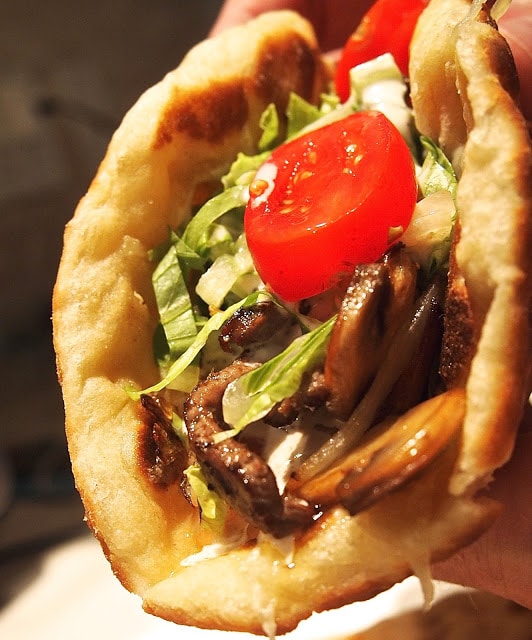 Montreal Steak and Cheese with Chipotle Mayo Dressing
Ingredients
4 Naan breads or 4 large hot dog buns
2 cups of shredded cheese (your choice – I like sharp cheddar)
1lb (500g) of tender cut of beef of your choice, thinly sliced
7 large mushrooms, cleaned and sliced (remove tip end of stem)
2 large yellow onions, cut in half and sliced
oil, butter
pinch of sugar, salt and pepper
Montreal steak spice or steak spice of your choice
lettuce, finely chopped
tomatoes, sliced
1 cup of real mayonnaise
2 tbsp of seasoned rice vinegar
chipotle pepper to taste
1/4 of water
Instructions
Put 1 tbsp (15ml) of oil in a medium sized pan over medium heat. Add the sliced onions (2 large), a large pinch of salt and sugar and cook, stirring occasionally for about 15 -20 minutes – until the onions are soft and begin to colour. Set aside;
Return the pan to the heat and add another 1 tbsp (15ml) of oil. Add the sliced mushroom (7 large), and a generous pinch of salt;
After about 10 minutes, the mushrooms will have rendered their water. Pour them into a sieve to drain. Add a large pat of butter to the pan and return mushroom to the pan to sauté and colour. Cook over medium high heat for about 2-3 minutes. Taste, season with salt and generous amount of pepper and set aside (if you continue to cook the mushrooms without draining their water, they will shrink too much and be overcooked. It is also difficult to get them to colour);
Return pan to medium high heat and add 1 more tbsp (15ml) of oil. Add the thinly sliced steak in batches until cooked, turning once. This only takes a few seconds per side. Remove and season with Montreal steak spice.
To make the Chipotle mayonnaise dressing, put the mayonnaise (1 cup – 250ml) in a bowl, add the seasoned rice vinegar (2tbsp – 30ml) and chipotle powder (to taste) and whisk to blend. Slowly add the water until you have a consistency you like;
You are now ready to assemble the flatbreads: Put a generous layer of shredded cheese on the Naan (or hot dog bun) and place under the broiler (or on the barbecue – indirect heat) until it melts, top with steak, mushrooms, onions, lettuce, sliced tomatoes and generous amount of dressing.
https://stlcooks.com/montreal-steak-and-cheese-with-chipotle-mayo-dressing/
Recipe and Photo: EpiCuriousGenerations / CC BY-ND