Jump to recipe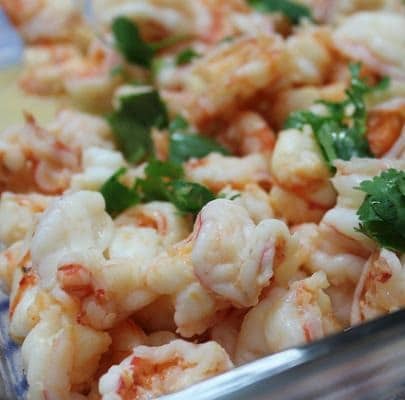 Tasty Tequila Lime Shrimp

Ingredients
3 tablespoons Olive oil
2 Garlic cloves, minced
1 1/2 pounds Medium shrimp, shelled and deveined
3 tablespoons Tequila
Juice of 1-2 limes
Salt
Chili powder, to taste (optional)
4 tablespoons Coarsely chopped fresh cilantro
White rice or corn tortillas
Lime wedges for garnish
Instructions
Pat shrimp dry with paper towels. Heat oil in a large skillet over a medium heat. Add garlic and shrimp; cook about 2 minutes until pink, stirring occasionally.
Stir in tequila, lime juice, salt, and chili powder (optional). Cook 2 minutes more or until most of the liquid is evaporated and shrimp is pink and glazed. Garnish with freshly chopped cilantro.
Serve over hot, cooked rice, or in warm tortillas. Garnish with lime wedges.
Recipe and Photo: Foodista / CC BY