Jump to recipe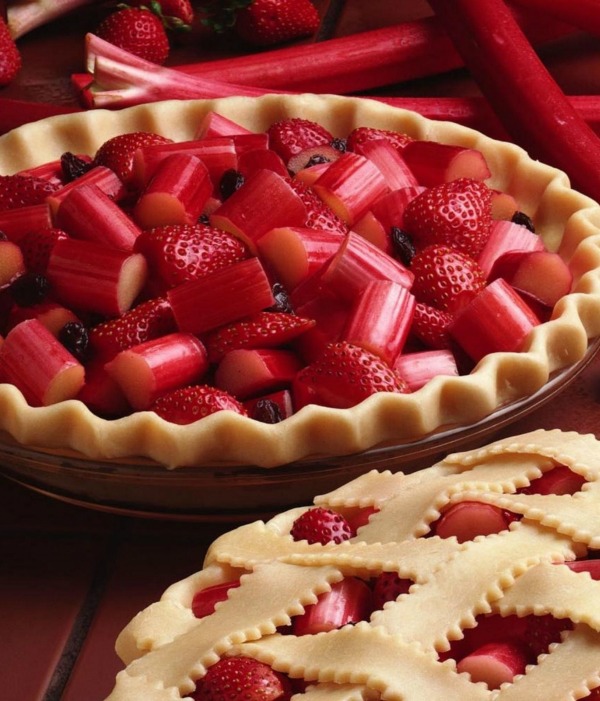 Ingredients
For the Crust:
150 grams all-purpose flour
1 teaspoon salt
1/2 cup vegetable oil
4 tablespoons milk
For the Filling:
3 medium stalks rhubarb, cut into 1 1/2 inch pieces
1 cup sliced fresh strawberries
100 grams white sugar
2 tablespoons tapioca
1 pinch salt
1 teaspoons ground nutmeg
Instructions
Preheat the oven to 425°F.
For the crust, whisk the flour, salt, vegetable oil and milk until it forms a ball of dough in a large bowl.
Divide the dough into 2 balls. Place one ball on sheet of waxed paper. Top with another sheet of waxed paper and roll out to fit your pie plate.
Repeat with remaining ball of dough. Peel top paper off of one crust and flip dough into pie plate. Peel off paper and press dough in. Save remaining dough for top crust.
For the filling, combine the rhubarb, strawberries, sugar, tapioca, salt and nutmeg until well incorporated in another bowl.
Pour filling into the crust and dot with butter. Cover with top crust, seal edges and cut three 1 inch slits in top of crust.
Place into the preheated oven and bake it for 25 minutes or until golden brown.
Remove the pie out from oven and let it cool to room temperature.
Recipe and Photo: DessertRecipes2u