Jump to recipe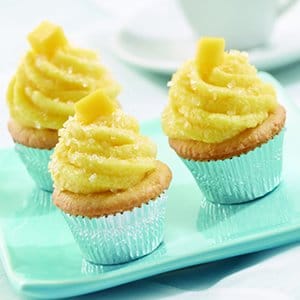 Ingredients
1 15.25-ounce box vanilla cake mix
1 cup water
1/2 cup vegetable oil
3 eggs
Mango Buttercream
2 large mangos (about 2 pounds), peeled, pitted and diced
2 1/2 sticks (1 1/4 cups) unsalted butter, room temperature
5 cups powdered sugar
2 tablespoons white sparkling sugar sprinkles (optional)
Instructions
Cupcakes:
Preheat oven to 325°F.
Line mini muffin tins with cupcake liners.
In large bowl, beat cake mix, water, oil and eggs with electric mixer on low speed about 30 seconds. Increase speed to medium and mix until smooth, about 2 minutes.
Pour into prepared pans and bake until a toothpick inserted into center of cupcake comes out clean, 15 to 18 minutes.
Cool in pans for 5 minutes then cool completely on wire rack.
Mango Buttercream:
Purée 1 1/2 diced mangos in food processor or blender until smooth, set aside (will yield about 3/4 cup). Reserve remaining diced mango for garnish.
In large bowl, beat butter with electric mixer on medium speed, until smooth. Slowly add powdered sugar, 1 cup at a time, mixing between each addition.
Add 3/4 cup of mango purée. Increase speed to high and beat until incorporated, about 2 minutes.
Transfer buttercream to a pastry bag or a large zip top bag fitted with a pastry tip. Top cooled cupcakes with buttercream.
Top with 1 piece diced mango and sparkling sugar, if desired.
Recipe and Photo Courtesy of
National Mango Board