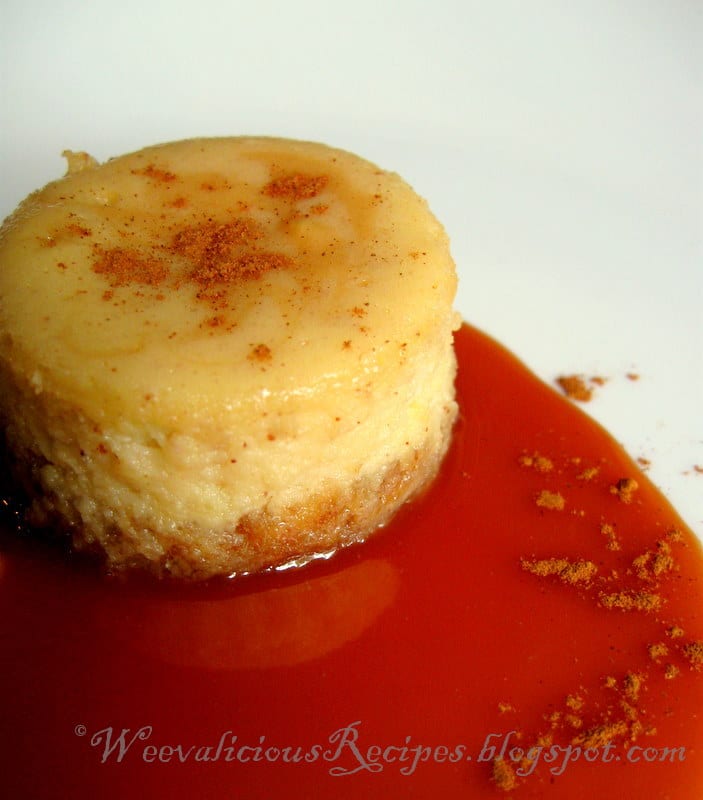 Mini Apple Pie Cheesecakes
Ingredients
Crust:

2 c graham cracker crumbs
1/2 c granulated sugar
7 tbsp (3/4 stick/3 oz/85g) unsalted butter, melted
1/2 c pecans, coarsely chopped (tweak: my recommendation would be to omit the caramel swirl and caramelize the pecans instead before chopping them up)

Filling:

2 large apples (I used fuji)
3 (8–ounce) packages cream cheese, at room temperature
1 1/4 c granulated sugar
2 tsp vanilla extract
4 large eggs
1 tbsp cinnamon (or to taste)
1 tsp nutmeg (or to taste)
4 oz apple concentrate (or to taste)

Caramel Sauce

1 1/2 c sugar
1/3 c water
1 1/4 to 1 1/2 c heavy cream
1/2 vanilla bean or 1/2 tsp pure vanilla extract
Instructions
For Crust:

Preheat oven to 325°F/160°C. Place removeable bottoms in mini cheesecake pan.
Stir cracker crumbs, pecans and sugar in medium bowl to blend. Add melted butter and stir until evenly moistened. Spoon a heaping teaspoon into each hole and pat down using the bottom of a shot glass.

For Filling:

Peel, core, and finely dice the apples. Beat cream cheese, sugar, and vanilla in large bowl until smooth. Add eggs one at a time, beating well after each addition. Reserve 2/3 c batter for caramel swirl; add apple concentrate and spices to the remainder, then gently fold in the diced apples.

For Sauce:

Mix the water and sugar in a large heavy-bottomed saucepan. Cover and cook over low heat until the sugar dissolves. Increase the heat and boil uncovered until the sugar turns a medium brown, about 5 to 7 minutes, stirring occasionally with a wooden spoon. Watch it carefully at the end, as it will go from caramel to burnt very quickly. Stand back to avoid splattering, and gradually add the cream and the seeds scraped from the vanilla bean (or vanilla extract). Simmer until the caramel dissolves and the sauce is smooth and thick, about 2 minutes. Let cool before using.
See Note 1.
To the reserved cheesecake liquid add spoonfuls of the sauce until it turns a light golden and is still fairly liquid. Make sure the sauce is well incorporated into the batter.

Assembly:

Pour ~1/4 c of apple cheesecake batter over each crust (about 3/4's way full). Drop by teaspoons the caramel batter into each cup and swirl around with a toothpick. Place the pan on a cookie sheet and bake for 20-25 minutes. Let cool before removing.
Notes
Note: I think this is what is called "dry caramel" and boy is it scary as all heck (mostly because I wasn't expecting it). As a warning – that water you're adding? It's going to evaporate and leave big chunks of hard sugar to very slowly dissolve. I would leave the water out entirely – just watch that pan closely!
https://stlcooks.com/mini-apple-pie-cheesecakes/
Recipe and Photo: Weevalicious Recipes