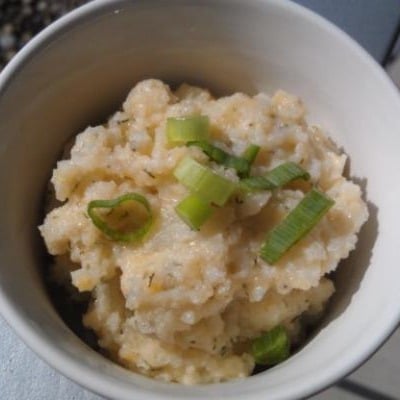 Mashed Cauliflower with Dill and Cheddar
Ingredients
1 medium head cauliflower
1 tablespoon cream cheese, softened
1 cup sharp white cheddar, grated
3 tablespoons unsalted butter
1/2 teaspoon fresh dill, chopped
Kosher salt and freshly ground black pepper, to taste
Garnish with sliced green onion, optional
Instructions
Bring a stockpot of water to boil over high heat.
Clean and cut cauliflower into small pieces. Cook in boiling water for about 6 minutes, or until well done. Drain well, patting with paper towels if necessary; do not let cauliflower cool.
In a bowl with an immersion blender, or in a food processor, puree the hot cauliflower with the cream cheese, Cheddar and butter until almost smooth. Stir in dill and season to taste with salt and pepper. Garnish with diced green onion. Serve hot.
https://stlcooks.com/mashed-cauliflower-with-dill-and-cheddar/
Recipe and Photo: Foodista / CC BY