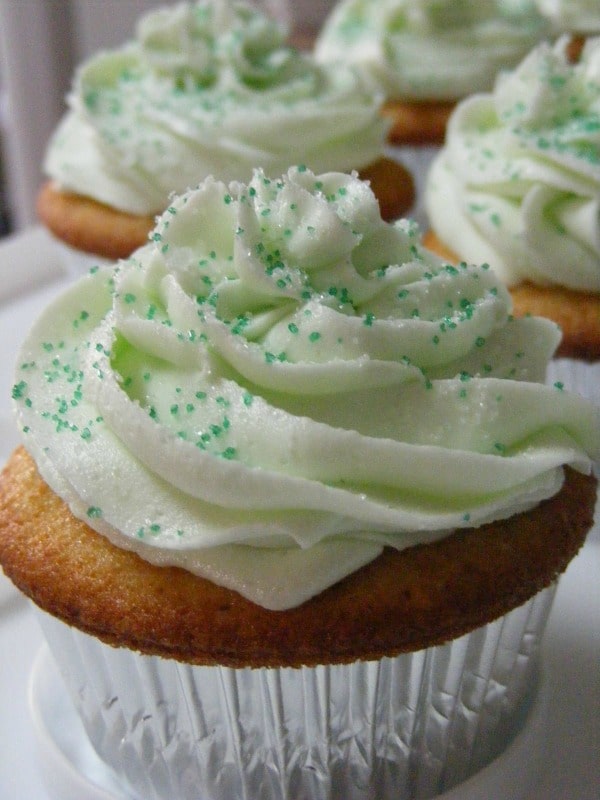 Ingredients
1 stick of butter, softened
1 cup granulated sugar
2 large eggs, at room temperature, plus 1/2 large egg white
1 tablespoon vegetable oil
2/3 cups flour
1 1/4 teaspoons baking powder
1/4 teaspoon baking soda
1 teaspoons kosher or sea salt
2/3 cup whole milk
1 tsp vanilla
Zest of 2 limes

For the frosting

1 stick butter, softened
2 1/2 cups powdered sugar
2 -3 tablespoons Tequila – I used Margaritaville Lime Tequila YUMMY
2 – 3 teaspoons of Lime Juice
A couple of drops of green food colouring (optional) – makes it a super light green
Instructions
Blend the sugar and lime zest together until the sugar becomes fragrant of limes!
Cream the butter and sugar together until light and fluffy (I love that term, light and fluffy!)
Beat in the eggs and half an egg white until nice and creamy.
In a separate bowl sift together flour, baking powder, baking soda, and salt.
In another bowl whisk together the milk, vanilla and oil.
Alternating the dry and wet blend together with the butter, sugar and egg mixture, and as most recipes say be sure to end with the dry.
Don't over blend – just until completely incorporated.
Fill cupcake liners 2/3 of the way full.
Bake at 350 for about 25 minutes – the tops will be light brown and spring back nicely!

For the frosting

Cream the butter and 1 cup of the sugar together.
Beat in the tequila and lime juice.
Add in the rest of the sugar until you reach the consistency you are looking for. I like my frosting pretty thick – makes nice swirls – even though this time I was having some serious difficulty with my swirls.
Add in the food colouring if you want, or leave it a nice white.
Frost your cupcakes once they are totally cooled.
I chose to decorate my cupcakes with a mix of sparkling green and white sugars, and some sea salt for that "rimmed" effect.
https://stlcooks.com/margarita-cupcakes/
Recipe and Photo: Love Big Bake Often / CC BY