Jump to recipe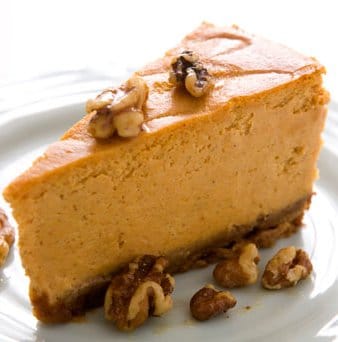 Maple Pumpkin Cheesecake

Ingredients
1 1/4 cups graham cracker crumbs
1/4 cup Sugar
1/4 cup margarine or butter, melted
3 x (8–ounce) packages cream cheese, softened
1 (14–ounce) can sweetened condensed milk (NOT evaporated milk)
1 x (15–ounce) can pumpkin (2 cups)
3 eggs
1/4 cup maple syrup
1 1/2 tsp ground cinnamon
1 tsp ground nutmeg
1/2 tsp salt
Maple Pecan Glaze
1 cup (1/2pint) whipping cream
3/4 cup pure maple syrup
1/2 cup pecans, chopped
Optional Garnish
whipped cream
pecan halves
Instructions
Preheat oven to 325º.
Combine graham cracker crumbs, Sugar and butter; press firmly on bottom of 9-inch springform pan.
With mixer, beat cream cheese until fluffy.
Add pumpkin, eggs, syrup, cinnamon, nutmeg and salt; mix well.
Pour into prepared pan.
Bake 1 1/4 hours or until center appears nearly set when shaken.
Cool 1 hour. Cover and chill at least 4 hours.
To serve, spoon some Maple pecan Sauce over cheesecake.
Garnish with whipped cream and pecans if desired.
Pass remaining sauce.
Store leftovers covered in refrigerator.
Maple pecan Glaze
In medium-sized saucepan, combine 1 cup (1/2pint) whipping cream 3/4 cup pure maple syrup bring to a boil.
Boil rapidly 15 to 20 minutes or until slightly thickened; stir occasionally.
Stir in 1/2 cup chopped pecans.
Cover and chill until served.
Stir before servings.
Recipe and Photo: recipes.wikia.com / CC BY-SA