Jump to recipe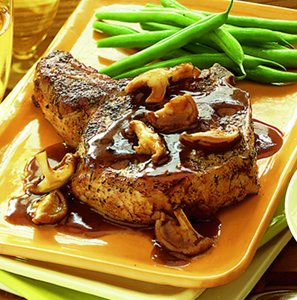 Sage Rubbed Pork Chops With Wild Mushroom Sauce

Ingredients
2 teaspoons Rubbed Sage
3/4 teaspoon Ground Ginger
1/2 teaspoon Coarse Ground Black Pepper
6 pork chops (3/4–inch thick), trimmed
1 tablespoon vegetable oil
1 cup reduced-sodium chicken broth
1/4 cup balsamic vinegar
1 teaspoon Garlic Powder
1 teaspoon Thyme Leaves
1 cup fresh mushrooms (such as shiitake or cremini sliced)
Instructions
Blend sage, ginger and pepper. Rub evenly on both sides of chops.
In skillet, heat oil over medium-high heat. Add chops and cook 5 to 6 minutes per side or until internal temperature reaches 160°F.
Remove chops from skillet; keep warm. Add broth, vinegar, garlic powder and thyme to skillet, scraping browned bits from bottom of skillet. Stir in mushrooms.
Lower heat to medium; simmer about 15 minutes or until mixture is reduced by half. Spoon mushrooms and sauce over chops.
Recipe and Photo: McCormick & Company