Jump to recipe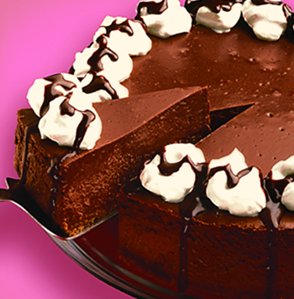 Luscious Baked Chocolate Cheesecake

Ingredients
1/3 cup butter or margarine, melted
1 1/4 cups graham cracker crumbs
1/4 cup sugar
3 (8-ounce) packages cream cheese, softened
1 (14-ounce) can Eagle Brand Sweetened Condensed Milk (NOT evaporated milk)
1 (12-ounce) package semi-sweet chocolate chips or 8 (1-ounce) squares semi-sweet chocolate, melted
4 eggs
2 teaspoons vanilla extract
Instructions
Preheat oven to 300°F. Combine butter, graham cracker crumbs and sugar; press firmly on bottom of 9-inch springform pan.
In large bowl, beat cream cheese until fluffy. Gradually beat in sweetened condensed milk until smooth.
Add remaining ingredients; mix well. Pour into prepared pan. Bake 1 hour and 5 minutes or until cake springs back when lightly touched. Cool. Chill. Garnish as desired. Store leftovers covered in refrigerator.
Recipe and Photo Credit Eagle Brand