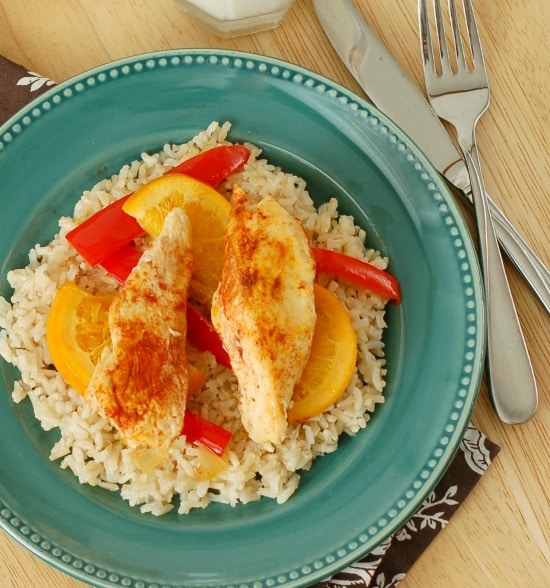 Ingredients
8 oz can tomato sauce
½ cup finely chopped onion
2 tbsp chopped pimento
½ tsp chili powder
12 oz chicken breast halves, cut into 1" pieces
1 tbsp water
3 cups hot cooked rice
½ cup orange juice
2 tbsp raisins
½ tsp oregano, crushed
1 clove garlic, minced
2 tsp cornstarch
¼ cup snipped parsley
several dashes bottled hot pepper sauce
Instructions
In a large skillet combine tomato sauce, orange juice, onion, raisins, pimento, oregano, chili powder, garlic, and hot pepper sauce.
Bring to boiling; reduce heat.
Cover and simmer 5 minutes.
Stir in chicken; return to boiling.
Cover and simmer 12–15 minutes more or till chicken is tender and no longer pink.
Meanwhile combine cornstarch and water.
Stir into skillet.
Cook and stir till thickened and bubbly.
Cook and stir 2 minutes more.
Toss parsley with rice.
Serve chicken mixture over rice.
https://stlcooks.com/low-cal-fiesta-chicken/
Recipe and Photo: recipes.wikia.com / CC BY-SA