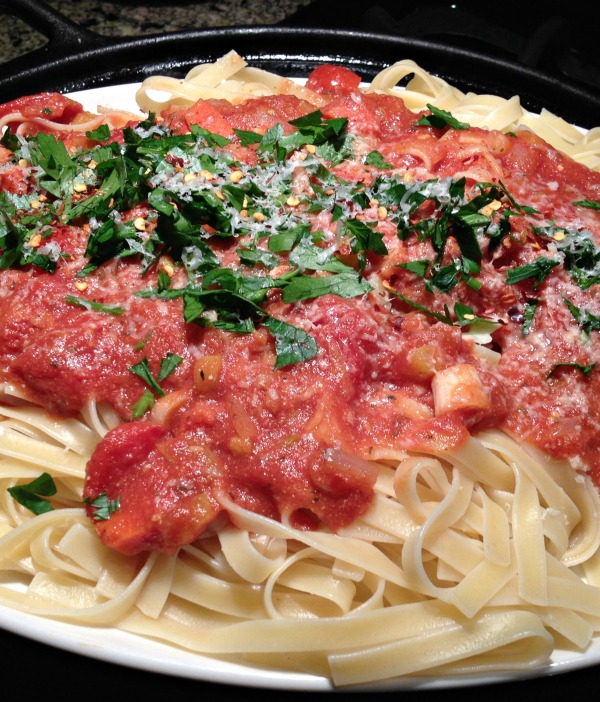 Light Bolognese Sauce with Fettuccine
Ingredients
1 pint of grape tomatoes – halved
4 cloves of garlic – chopped
1 red onion – sliced
1 carrot – chopped
3 scallions – chopped
29 oz. can crushed tomatoes
¼ cup of wine
½ cup of milk
¼ cup grated Romano or Parmesan cheese
2 tablespoons olive oil
1 tsp. salt
½ tsp. red pepper flakes
1 tsp. ground oregano
½ tsp. black pepper
½ tsp. garlic powder
¼ cup chopped Italian parsley
Grated Romano or Parmesan cheese
1 lb. of fettuccine
Instructions
Heat a sauce pot with the olive oil. Add the garlic, grape tomatoes, onion, carrots and scallions to sauté until the garlic is fragrant.
Add the crushed tomatoes and wine and gently simmer. Add the seasonings and continue to simmer on low.
Prepare the fettuccini as directed.
Combine the milk and the Romano or Parmesan cheese and stir into the sauce.
Plate the fettuccine and add the sauce and toss. Top with a little more sauce, fresh Italian parsley, a drizzle of olive oil, red pepper flakes, grated cheese and serve.
https://stlcooks.com/light-bolognese-sauce-with-fettuccine/
Recipe and Photo: Foodista / CC BY