Jump to recipe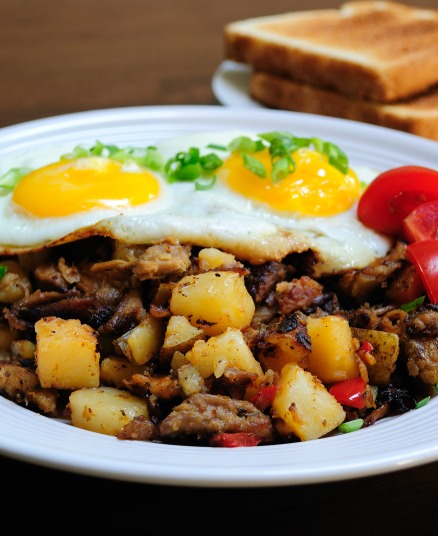 Pulled Pork Hash

Ingredients
3 cups pulled pork
2 medium russet potatoes, large dice (about 1/2? pieces)
1 small onion, diced
1/2 red bell pepper, diced
1 large clove garlic, minced
1 tsp fresh oregano, minced
1 large bay leaf
2 tbsp vegetable oil (or leftover pork drippings, if you saved them)
1/2 cup heavy cream
1 tbsp hot salsa
Sliced green onions for garnish (optional)
kosher salt and pepper to taste
Instructions
In a heavy 12" skillet, add the potatoes and cover them with water (about 4 to 5 cups). Toss in the bay leaves and a heavy pinch of salt, then bring the water to a boil over medium-high heat, and cook the potatoes for 5 minutes. Drain and set aside.
In the same skillet, heat the oil and add the onion and peppers to the pan, sauteing until the veggies soften a bit and begin to brown at the edges. Stir in the garlic and oregano, and allow to cook for another 30 seconds or so, just until the garlic is fragrant.
Add the pulled pork and potatoes, and fold the mixture together to combine. Then lightly pack the mixture down into the pan, pressing it against the bottom. In a small bowl, stir together the cream and hot salsa, then pour the mixture evenly over the hash.
Allow the hash to cook undisturbed for 3 to 4 minutes, then use your spatula to break down into the hash and turn it over, a section at a time, making sure to get the browned bits off the bottom of the pan and fold them back into the hash. Lightly pack the hash down again, and allow it to cook some more for another couple of minutes before repeating the folding process. Repeat this until the potatoes are thoroughly cooked.
Check for seasoning, and add salt and pepper to taste.
Garnish with sliced green onions and serve immediately.
Recipe and Photo: The Haute Meal / CC BY-SA