Jump to recipe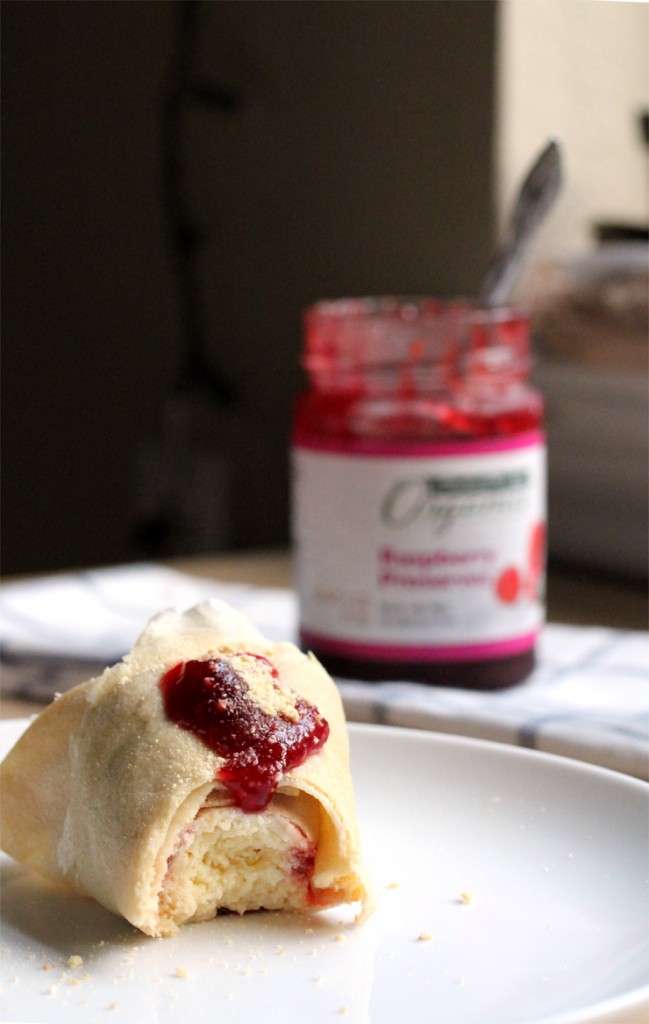 Japanese Cheesecake Crepes

Ingredients
For the cheesecake:
2 cups fat free Greek yogurt (I used Chobani vanilla)
1/3 cup sugar (if your yogurt is not sweetened, you could up this to ½ cup)
2 eggs
1 teaspoon vanilla (if using plain Greek yogurt)
1/8 teaspoon salt
1 tablespoon cornstarch
For the crepes:
1/3 cup all-purpose or white whole wheat flour
1/3 cup sweet rice flour
2 eggs
2/3 teaspoon sugar
1/8 teaspoon salt
½ teaspoon vanilla extract
1 1/3 cups almond milk
Instructions
For the cheesecake:
In a blender, blend together the yogurt, sugar, eggs and vanilla, if using. Add the salt and cornstarch and blend just to combine.
Fill a 9×9 casserole dish with 1" of water and put it on the bottom rack of your oven—this will keep the cheesecake from cracking. Pour the cheesecake batter into a well-greased 10" springform pan (or any size, really—the smaller it is, the thicker your cheesecake will be and the longer it will take to bake).
Bake for 30 minutes, or until center just barely jiggles and the edges are light brown. Turn oven off and crack door. Let cool completely in the oven if you have the time; if not, transfer to the counter or fridge to chill (if these slices are going in crepes, no need to look pretty!).
For the crepes:
In a blender, blend together the flours, eggs, sugar, salt and vanilla until smooth—don't over mix. Though this step can be done by hand, I highly recommend using a blender to make sure all the ingredients are fully incorporated. Add the milk in two additions, blending after each addition.
Lightly grease a large skillet over medium-low heat. Add a scant ½ cup of batter (amount will depend on the size of your pan) and quickly swirl to evenly coat the bottom of the batter.
Let the crepe cook for 1-2 minutes, or until the edges look dry and you can easily slide a spatula underneath. Loosen the edges of the crepe, slide the spatula under it and gently flip upside down. Cook for another 10-20 seconds and transfer the crepe to a plate or cooling rack. Make sure to whisk the batter again in between each crepe to ensure the flour doesn't settle at the bottom.
To assemble:
Place one slice of cheesecake in the center of the top half of your crepe. Add fruit, jam, graham cracker crumbs, peanut butter, or any other toppings. Fold the bottom half up over the top half. Fold or roll closed. Eat!
Image and recipe reprinted with permission from www.thepancakeprincess.com and www.healthyaperture.com