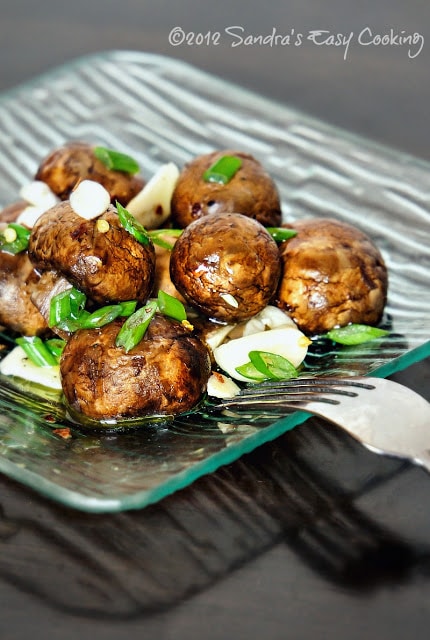 Ingredients
1 Pack Organic Baby Bella Mushrooms -these are locally grown too.
1/2 teaspoon Sea Salt
1/2 Cup Olive Oil
3 Tbs. Vinegar
4-5 Garlic cloves, sliced
3 Scallions,
2 Tbs. Soy Sauce
1/2 tsp. Crushed Red Pepper Flakes
Instructions
In a boiling salted (1/2 tbs. Salt) water put whole mushrooms and boil for about 7 minutes- I do not wash mushrooms until the moment I am going to cook them; just lightly wash under cold water to get the hidden dirt off and place in the boiling water.
In a meanwhile mix Olive oil, vinegar, sliced garlic, chopped scallions, soy sauce, and crushed red pepper flakes.
Once the mushrooms are done boiling, drain and put in a deep bowl;
Pour over the marinate and cover with the lid or a foil.
Let it sit in the marinate until it's cooled down and at room temperature.
You can refrigerate it by placing it in the airtight container; it can last for up to 3 days.
https://stlcooks.com/marinated-mushrooms/
Recipe and Photo: Sandra's Easy Cooking / CC BY (Be sure to check out Sandra's site, as she gives a ton of extra information on the health benefits of this dish!)