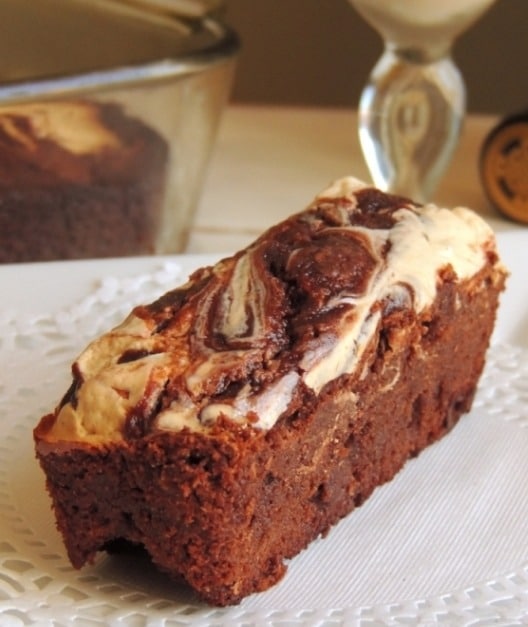 Irish Cream Cheesecake Brownies
Ingredients
Cooking spray
1/4 cup unsalted butter
2 cups semi-sweet chocolate chips (reserve 1 cup to mix in at the end)
3/4 cup Truvia (or 1 1/2 cups regular sugar)
1/3 cup plain Greek Yogurt
1/2 teaspoon Baking Powder
1/2 teaspoon salt
3 eggs
1 1/4 cup Gluten Free multipurpose flour
8 ounces fat free cream cheese
2 tablespoons + 1 teaspoon Truvia (or 1/3 cup sugar)
1 large egg
1/4 cup Irish Creme liquor
Instructions
Preheat the oven to 350 degrees F. Spray a 9 x 13 baking dish with cooking spray.
In a large pot over medium heat, melt the butter and 1 cup of the chocolate chips, stirring occasionally.
Remove from the heat, and add the Truvia, yogurt, baking powder, salt, eggs, and multipurpose flour. Stir until just combined.
Stir in the remaining cup of chocolate chips and set aside.
In a large bowl, add the cream cheese.
Beat with an electric mixer until smooth.
Add the egg, Truvia, and Irish Creme and beat on low-speed until combined.
Pour the brownie batter into the baking dish, then pour the cheesecake batter evenly on top.
Swirl the two layers together with a skewer or knife.
Bake for 40 minutes, or until a toothpick inserted into the center comes out clean.
https://stlcooks.com/irish-cream-cheesecake-brownies/
Recipe and Photo: Foodista / CC BY