Jump to recipe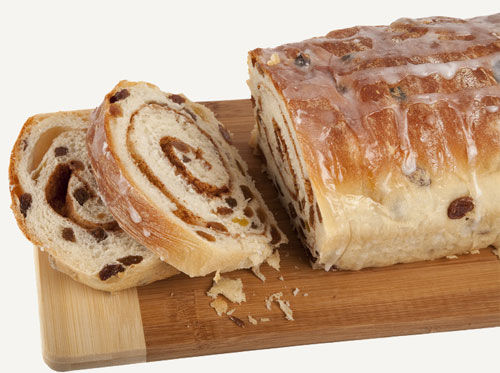 Cinnamon Raisin Swirl Bread

Ingredients
1-1/2 c. warm water
2 tbsp. milk
2 tbsp. shortening
1 tsp. salt
4 c. bread flour
3 tbsp. white sugar
2 tsp. active dry yeast
1 c. raisins
2 tbsp. butter, softened
2 tbsp. brown sugar
1 tsp. ground cinnamon
1 tbsp. butter, melted
Instructions
Place water, milk, shortening, salt, flour, sugar and yeast in the pan of the bread machine in the order recommended by the manufacturer. Select cycle; press Start.
If your machine has a Fruit setting, add the raisins at the signal, or about 5 minutes before the kneading cycle has finished.
Take dough out after first kneading cycle has finished. Turn dough out onto a lightly floured surface and roll out into a rectangle. Spread dough with butter, brown sugar, and cinnamon. Roll dough, and divide into two parts. Place loaves in two lightly greased 9×5 inch bread pans. Cover and let rise in a warm place until doubled in size, about 1 hour.
Preheat oven to 350 degrees F (175 degrees C). Brush tops of risen loaves with melted butter and bake in preheated oven for 30 to 40 minutes, until crust is brown and loaves sound hollow when tapped.
Recipe and Photo: Ordinary Recipes Made Gourmet / CC BY