Jump to recipe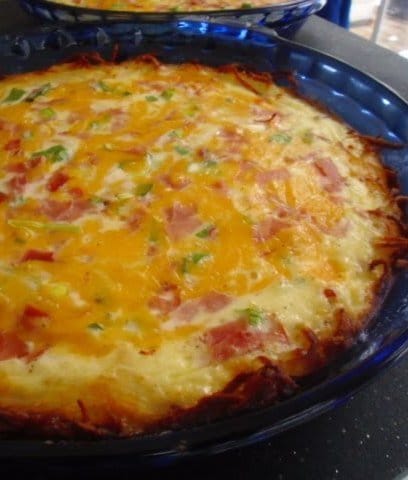 Hash Brown Quiche

Ingredients
8 cups refrigerated hash browns
1 stick butter, melted
8 large eggs
2 cups half and half
1 1/2 cups diced ham
1/2 cup thinly sliced scallions
2 cups shredded cheddar cheese
salt and pepper to taste
Instructions
Preheat oven to 450 degrees.
In a large bowl, toss the hash browns with the melted butter. Place half of the hash browns in each of the 2 (9-inch) pie plates and press them into the bottom and up the sides plates to form a crust. Bake for 25 – 35 minutes or until golden brown and starting to get crispy. Remove from oven and set aside. Reduce oven temperature to 350 degrees.
Meanwhile, in the same bowl, add the remaining ingredients and whisk to combine. Divide evenly between the browned hash brown crusts. Return to oven and bake for about 20 – 25 minutes or until the eggs are just set. Remove from oven and let rest for 5 minutes before cutting into wedges to serve.
Recipe and Photo: Dinners for a Year / CC BY-NC