Jump to recipe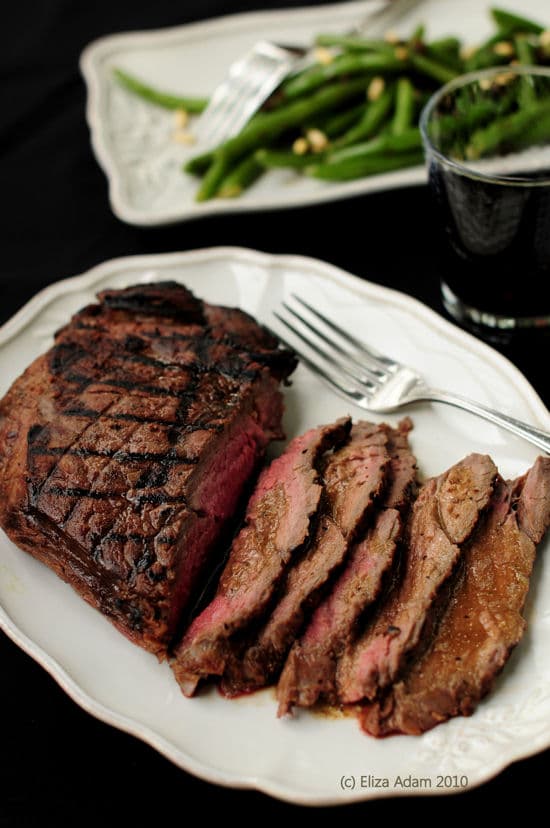 Grilled London Broil with Rum Molasses Sauce

Ingredients
6 tablespoons fresh lime juice (from about 3 limes)
1/3 cup olive oil
1/4 cup dark rum
2 tablespoons molasses (not robust)
1 tablespoon habanero pepper sauce
1 teaspoon salt
1 teaspoon freshly ground black pepper
1/2 teaspoon ground allspice
2 1/2 pounds top round London broil (1 1/4 inches thick)
Instructions
Whisk together lime juice, oil, rum, molasses, habanero sauce, salt, pepper, and allspice in a bowl until well combined. Put steak in a large sealable plastic bag, pour in marinade, and seal bag, pressing out excess air. Put steak in a shallow pan (in case of leaks) and marinate in refrigerator, turning several times for 12 hours.
Prepare the gas grill for direct-heat cooking over high heat.
Meanwhile, lift steak from marinade, letting excess drip back into bag, and transfer to a tray. Pour marinade into a small saucepan, bring to a boil over moderately high heat, and boil, stirring occasionally, for 3 minutes. Reserve 1/4 cup marinade for basting and set remaining marinade aside for serving with steak.
Oil grill rack. Pat steak dry and sear, covered, turning once, until grill marks appears on both sides, about 2 minutes total. Reduce heat to medium and grill steak, covered, turning occasionally, for 8 minutes more. Baste steak on both sides with reserved 1/4 cup marinade and grill until thermometer inserted horizontally 2 inches into meat registers 120 degrees F, about 5 minutes more.
Transfer steak to a cutting board and let stand, loosely covered with foil, for 5 minutes. Holding knife at a 45-degree angle, thinly slice steak. Serve with reserved sauce.
Recipe and Photo credit: Notes From My Food Diary / CC BY-ND