Jump to recipe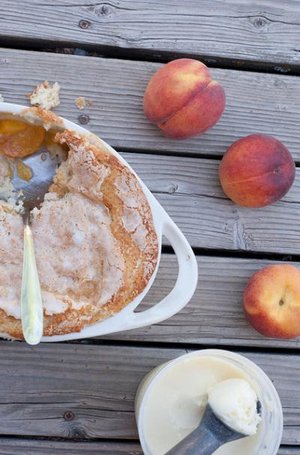 Gluten-Free Fresh Peach Cobbler

Ingredients
1/4 cup vegetable oil
1/2 cup sugar
2 eggs
1 cup gf flour
1 teaspoon baking powder
1/4 teaspoon salt
1/2 cup milk
1-1/2 teaspoon vanilla
3 cups fresh peaches
Juice of 1/2 lemon
1/4 cup sugar
1 teaspoon cinnamon
Instructions
Preheat oven to 350 degrees F.
Grease and flour an 8″ square baking pan.
In a large bowl, mix together oil and sugar. With an electric mixer, beat eggs into mixture.
In a separate bowl, combine flour, baking powder and salt.
In a small bowl, combine milk and vanilla.
Beat dry ingredients into egg mixture alternating with milk mixture. Beat until smooth and fluffy.
Spread batter into prepared pan. Top with peaches and sprinkle with lemon juice.
In a small bowl, combine sugar and cinnamon. Sprinkle cinnamon mixture over fruit. Bake for 40-45 minutes or until an inserted toothpick comes out clean.