Jump to recipe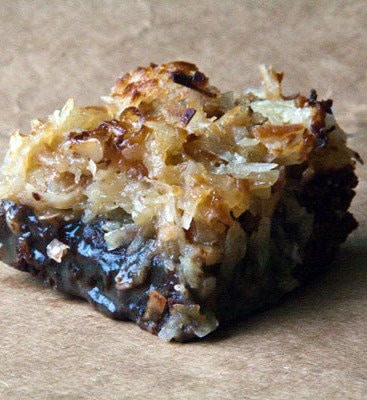 Ingredients
For the brownies:
5 oz (10 tablespoons or 1 1/4 sticks) unsalted butter
9 oz (1 1/4) cups sugar
3 oz (3/4 cups plus 2 tbsp) unsweetened cocoa powder
1/4 tsp salt
1/2 tsp pure vanilla extract
3 1/2 oz (2 large) cold eggs
2 1/2 oz (1/2 cup) all-purpose flour
2 1/4 oz (2/3 cups) walnut or pecan pieces (optional)
For the topping:
8 fl oz (1 cup) heavy cream
3 3/4 oz (1/2) cup sugar
2 1/4 oz (3 large) egg yolks
3 oz (6 tbsp) butter, cut into small pieces
½ tsp salt
1 cup pecans, toasted and finely chopped
5 oz (2 1/2 cups) sweetened coconut, toasted
Instructions
Preheat the oven to 325. Spray an 8 X 8 baking pan with cooking spray, then line it with parchment paper so the parchment hangs over the sides (this way you can lift the brownies right out). Spray the parchment too.
Combine the butter, sugar, cocoa and salt in a medium metal bowl and fit the bowl on top of a pot of simmering water. Stir, watching the butter; if it's not melting quickly enough, turn up the heat. Keep stirring until the butter's all melted and you have a paste. Stick your finger into the paste and when it's hot enough that you're like "ow" (170ºF), remove the bowl from the pot and allow it to cool a bit.
Stir in the vanilla with a wooden spoon. Add the eggs one at a time, stirring vigorously after each one. Add the flour and stir until it disappears, then beat vigorously for 40 strokes with a wooden spoon (I suppose this develops the gluten a bit and helps give those brownies structure? Just a guess). Stir in the nuts and spread evenly in your lined pan. (At this point, you can sprinkle the batter with flaky Maldon sea salt, if you're into that kind of thing.)
Bake until a cake tester comes out mostly clean, 20 to 25 minutes. Let cool on a rack.
Lift up the parchment on to a cutting board and cut the brownies into squares.
Mix the cream, sugar, and egg yolks in a medium saucepan.
Put the butter, salt, toasted coconut, and pecan pieces in a large bowl.
Heat the cream mixture and cook, stirring constantly (scraping the bottom as you stir) until the mixture begins to thicken and coats the spoon (an instant-read thermometer will read 170°.)
Pour the hot custard immediately into the pecan-coconut mixture and stir until the butter is melted. Cool completely to room temperature. (It will thicken.)
Preheat your broiler.
Pour German chocolate mixture over your brownies and place in oven for 5-7 minutes, until the top has browned slightly.
Remove and allow to cool before cutting.
Recipe and Photo: Foodista / CC BY