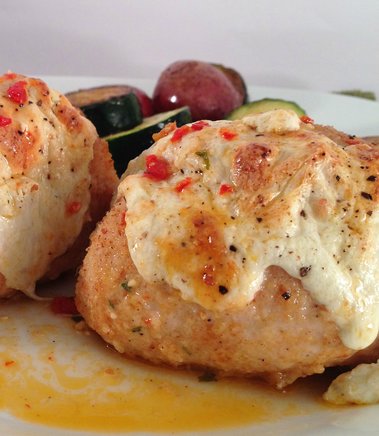 Baked Chicken Stuffed with Sun Dried Tomato and Fresh Mozzarella
Ingredients
4 thin sliced pieces of chicken breast
8 Tbsp sun dried tomato pesto {store bought or homemade- see below}
8 slices fresh mozzarella
1 egg
1 Tbsp water
Italian seasoned breadcrumbs
pecorino romano cheese
1/2 cup white wine
Instructions
If you'd like to make a quick sun dried tomato pesto, heres how: place a couple handfuls of sun dried tomatoes into a food processor with a couple cloves of garlic, a handful of fresh parsley and fresh cracked pepper. Give it a few pulses to start to break up the ingredients. Drizzle in 1/4 cup olive oil with the machine running until the ingredients are finely chopped.
Preheat your oven to 375 degrees.
Lay the chicken breasts flat. Top with a slice of fresh mozzarella and a couple Tbsp of the sun dried tomato pesto on each piece of chicken.
Roll the chicken up and secure with a few toothpicks.
In a small bowl whisk together the egg and water.
In another bowl mix together a couple handfuls of bread crumb and about a 1/4 cup of pecorino romano. You can add fresh chopped parsley if you'd like.
Coat each piece of chicken first in the egg mixture then in the seasoned breadcrumbs.
Place into a baking dish with the white wine on the bottom.
Place another slice of fresh mozzarella on each piece of chicken. Drizzle with olive oil and season with fresh cracked pepper.
Bake for 30 minutes or until the juices run clear from the chicken. Serve the chicken with the juices poured overtop. I made some sautéed potatoes & zucchini to serve on the side.
https://stlcooks.com/baked-chicken-stuffed-with-sun-dried-tomato-and-fresh-mozzarella/
Recipe and Photo: Foodista / CC BY